Service marketplaces are now offering managed crowdsourcing designed for the enterprise, providing access to a pre-selected crowd through a private web-based interface.
One of the over-arching themes of crowdsourcing is its slow march towards the mainstream. One aspect of this is penetration into the larger enterprise, with crowdsourcing a technique embedded into key business processes.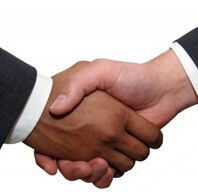 It's safe to say that progress has been patchy. For example crowdsourcing user testing is now gaining ground among larger companies, but service marketplaces such as oDesk and Freelancer.com are still dominated by smaller companies and start-ups. Where there is use by larger companies it is often sporadic or ad-hoc, limited to one department or division, or the result of an individual dipping their toe in the water.
The hesitation of the enterprise
It's a shame that more global companies don't use service marketplaces as the crowd provides a mind-boggling range of services which could be utilised.
In practice some of the reasons for the reticence of larger organisation to use these platforms lies in the processes put in place by enterprise support functions to minimise risks and reduce costs. Measures involving procurement departments and HR functions often mean that there are approval steps to navigate, lists of preferred suppliers to adhere to and pre-vetting of candidates to undertake.
Read more →
https://rossdawson.com/wp-content/uploads/2016/07/rdawson_1500x500_rgb-300x100.png
0
0
Steve Bynghall
https://rossdawson.com/wp-content/uploads/2016/07/rdawson_1500x500_rgb-300x100.png
Steve Bynghall
2015-05-21 07:43:39
2018-03-19 09:26:23
Managed Crowdsourcing for the Enterprise: the Growth of Private Talent Clouds