Our Future of Media Report 2008 is now launched! (See also our extremely popular Future of Media Report 2007 and Future of Media Report 2006).
This will be given to attendees at the Future of Media Summit 2008 next week in beautiful glossy print format to take home. If for some reason you are NOT attending the Summit, you'll have to settle for a digital version with small print-outs of the spreads (unless you happen to have a large-format printer handy…) :-)
This year we've taken a slightly different approach, moving away from providing statistics, and focusing on developing three frameworks to help people think about the future of media and engage in constructive conversations at the Summit. We've always found we get a fantastic response to our frameworks, so we focused on this as a way to create value with the report.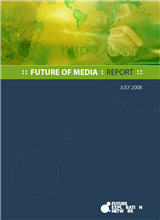 Future of Media Report 2008 (pdf 1MB)
A quick overview of the report contents:
WELCOME
An introduction to the report. The full text is at the bottom of this post.
MEDIA: A GROWTH MARKET
Contains our prediction that the global media and entertainment market will grow from US$1.7 trillion this year to US$5.7 trillion in 2024 (in 2008 dollars) – released in this report – as well as information on current growth trends in advertising.
7 DRIVING FORCES SHAPING MEDIA
Detailed descriptions and charts on seven massive trends that are changing the media landscape.
See here for the 7 driving forces shaping media framework as a stand-alone chart.
FUTURE OF THE MEDIA LIFECYCLE
A framework examining how the media lifecycle flows from the sea of content, through media engagement, to our personal clouds, and through the precipitation of participation back to the sea. It looks in detail at what will happen in the home and mobile arenas in media participation.
See here for a detailed explanation of the framework and the stand-alone diagram.
FUTURE OF MEDIA: STRATEGY TOOLS
A spread looking in detail at the Flow Economy framework as a tool for developing strategy in media-related industries, as well as snapshots of the role of scenario planning and game theory in media strategy.
This will be released as a stand-alone document shortly.
MEDIA SNIPPETS
Ten provocative pieces of information on the media industry, giving insights into global trends.
The report also includes an overview of some of the work Future Exploration Network does for its clients.
We hope and expect that the report will get similar attention to the last two years' reports (well over 100,000 downloads and an enormous amount of commentary and attention). We look forward to your thoughts!
FUTURE OF MEDIA REPORT 2008: WELCOME
We are entering the media economy. The traditional boundaries of the media and entertainment industry have become meaningless. Today almost every business and social activity is a form of media. An increasing proportion of our social interactions happen across media channels. Every organization is now a media entity, engaged in creating and disseminating messages among its staff, customers, and partners to achieve business objectives. As the physical economy becomes marginalized and economic value becomes centered on the virtual, media encompasses almost everything.
At the same time, many media organizations are experiencing severe challenges, as content proliferates, audiences change behaviors, advertising revenue erodes, and new competitors emerge. Others are prospering as they tap swiftly growing sectors, leverage amateur content creation, tap the power of social networks, and scale production costs. Meanwhile adjacent industries such as telecom, financial services, mobile phones, consumer electronics, professional services, and even automobile are becoming media participants.
Each year Future Exploration Network runs the Future of Media Summit, linking Silicon Valley and Sydney with video and cross-continental discussions, and launches an accompanying report. The striking impact of the 2006 and 2007 Future of Media Reports means this year's report has a lot to live up to. We are confident the new frameworks and ideas we are contributing will again provide substantial value.
Over the last years we have helped many media organizations develop and implement effective strategies. We thrive on helping companies to create the future of media. However it is also exciting to take these issues and conversations into a broader sphere. Welcome to the conversation.
Ross Dawson
Chairman
Future Exploration Network
https://rossdawson.com/wp-content/uploads/2016/07/rdawson_1500x500_rgb-300x100.png
0
0
Ross Dawson
https://rossdawson.com/wp-content/uploads/2016/07/rdawson_1500x500_rgb-300x100.png
Ross Dawson
2008-07-09 00:14:49
2020-06-18 04:06:49
Launch of the Future of Media Report 2008! We predict the media industry will be worth US$5.7 trillion in 2024