Our Future of Media Report 2008 is now launched! (See also our extremely popular Future of Media Report 2007 and Future of Media Report 2006).
This will be given to attendees at the Future of Media Summit 2008 next week in beautiful glossy print format to take home. If for some reason you are NOT attending the Summit, you'll have to settle for a digital version with small print-outs of the spreads (unless you happen to have a large-format printer handy…) :-)
This year we've taken a slightly different approach, moving away from providing statistics, and focusing on developing three frameworks to help people think about the future of media and engage in constructive conversations at the Summit. We've always found we get a fantastic response to our frameworks, so we focused on this as a way to create value with the report.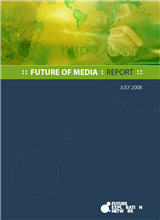 Future of Media Report 2008 (pdf 1MB)
A quick overview of the report contents:
WELCOME
An introduction to the report. The full text is at the bottom of this post.
MEDIA: A GROWTH MARKET
Contains our prediction that the global media and entertainment market will grow from US$1.7 trillion this year to US$5.7 trillion in 2024 (in 2008 dollars) – released in this report – as well as information on current growth trends in advertising.
https://rossdawson.com/wp-content/uploads/2016/07/rdawson_1500x500_rgb-300x100.png
0
0
Ross Dawson
https://rossdawson.com/wp-content/uploads/2016/07/rdawson_1500x500_rgb-300x100.png
Ross Dawson
2008-07-09 00:14:49
2020-06-18 04:06:49
Launch of the Future of Media Report 2008! We predict the media industry will be worth US$5.7 trillion in 2024