Earlier this year I wrote about the top 25 startup hubs in the world as ranked by the Startup Genome project.
As I noted at the time, it was based on skewed data from the sample used, but was probably the best available. The project has now released updated and more detailed data ranking the top global startup ecosystems on a wide range of criteria. It makes for interesting reading. You can register to download the full report.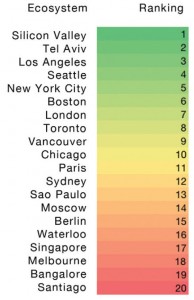 This is considerably better data than the first round, in particular in providing richer comparisons of the differences between the cities in how the startup scene is structured. On the rankings, we think we can do better, and we are planning to launch a framework that will provide insights into the relative performance of startup hubs around the world. For now, the Startup Genome data is the best available, and a great resource for understanding the global startup scene.
Below are quick highlights from each of the top 20 cities. This includes, in addition to brief notes on distinctive aspects of the startup scene, a chart showing performance relative to top-performing Silicon Valley on 8 indices:
Read more →
https://rossdawson.com/wp-content/uploads/2016/07/rdawson_1500x500_rgb-300x100.png
0
0
Ross Dawson
https://rossdawson.com/wp-content/uploads/2016/07/rdawson_1500x500_rgb-300x100.png
Ross Dawson
2012-11-22 12:20:14
2012-11-22 12:20:14
Ranking and comparing the world's top 20 startup hubs