Over the next few weeks I will be giving the keynote at the Tomorrow-Ready CIO Series organized by CIO magazine and sponsored by IBM. The events will be held over breakfast in Canberra, Perth, Sydney, Auckland and Melbourne, with an audience of CIOs and other senior IT executives. Full details on the events here.
My keynote will be on the Future of the CIO. I have recently pulled together my thinking on the topic, drawing in particular on a series of CIO workshops I ran across Europe last year.
Below is the Future of the CIO Framework that I will be sharing at the events. It is now up on my complete list of visual frameworks on RossDawson.com.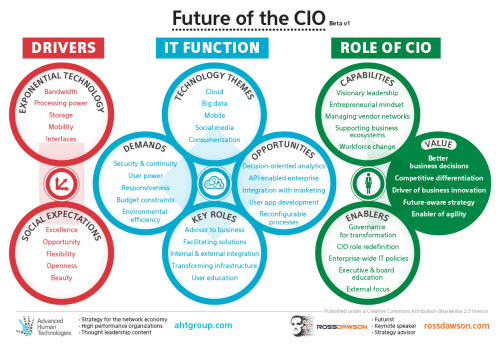 Click on the image for the full-size pdf

As I did for many of my keynotes based on my Transformation of Business framework, I will use Prezi to run through the framework and offer insights into each of the elements of the landscape. I will shortly share the Prezi on my blog.
The launch of this framework is the kickoff point for what will be considerably more content from us on the future of the CIO and IT function. Stand by for more detailed explanations of some of the facets of the landscape, as well as different perspectives on the topic.
https://rossdawson.com/wp-content/uploads/2016/07/rdawson_1500x500_rgb-300x100.png
0
0
Ross Dawson
https://rossdawson.com/wp-content/uploads/2016/07/rdawson_1500x500_rgb-300x100.png
Ross Dawson
2013-03-05 11:58:11
2013-03-05 11:58:11
Launch of Future of the CIO framework