[UPDATE December 20, 2017: Read a review of the Newspaper Extinction Timeline 7 years after it was published]
Back in August [2010] I predicted that newspapers in their current form will be irrelevant in Australia in 2022. That received significant international attention including from The Australian, The Guardian, Editor & Publisher (which called me the 'Wizard of Aussie') and many others.
Part of the point I wanted to make was that this date is different for every country. As such I have created a Newspaper Extinction Timeline that maps out the wide diversity in how quickly we can expect newspapers to remain significant around the world. First out is USA in 2017, followed by UK and Iceland in 2019 and Canada and Norway in 2020. In many countries newspapers will survive the year 2040.
The Australian has again covered this in a story title Deadline for newspapers as digital publications rise. There may be some more coverage in coming days.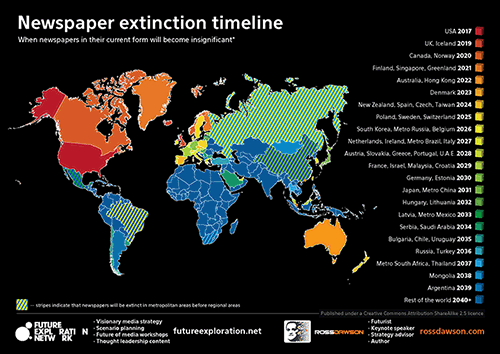 Click on image to download full framework
The second page of the framework explains both the global and national drivers leading to the wide disparity in how quickly newspapers will move on, and provides some notes to the framework.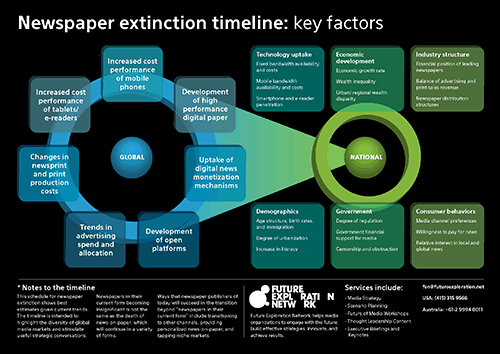 Click on image to download full framework
[UPDATE:] Here are some of the many reactions to the Newspaper Extinction Timeline with a few comments.
[UPDATE 2:] Here are Further explanations and answers to 6 questions on the Newspaper Extinction Timeline after one million views.
Below are the factors:
FACTORS DRIVING THE PACE OF NEWSPAPER EXTINCTION
GLOBAL
Increased cost performance of mobile phones
Increased cost performance of tablets/ e-readers
Development of high performance digital paper
Changes in newsprint and print production costs
Uptake of digital news monetization mechanisms
Trends in advertising spend and allocation
Development of open platforms
NATIONAL
Technology uptake
Fixed bandwidth availability and costs
Mobile bandwidth availability and costs
Smartphone and e-reader penetration
Economic development
Economic growth rate
Wealth inequality
Urban/ regional wealth disparity
Industry structure
Financial position of leading newspapers
Balance of advertising and print sales revenue
Newspaper distribution structures
Demographics
Age structure, birth rates, and immigration
Degree of urbanization
Increase in literacy
Government
Degree of regulation
Government financial support for media
Censorship and obstruction
Consumer behaviors
Media channel preferences
Willingness to pay for news
Relative interest in local and global news
https://rossdawson.com/wp-content/uploads/2016/07/rdawson_1500x500_rgb-300x100.png
0
0
Ross Dawson
https://rossdawson.com/wp-content/uploads/2016/07/rdawson_1500x500_rgb-300x100.png
Ross Dawson
2010-10-31 22:47:23
2017-12-20 11:18:55
Launch of Newspaper Extinction Timeline for every country in the world