Continuing our series of free chapters from Implementing Enterprise 2.0, here is Chapter 7 on Governance. For full details on the report and all the sample chapters go to the Implementing Enterprise 2.0 website.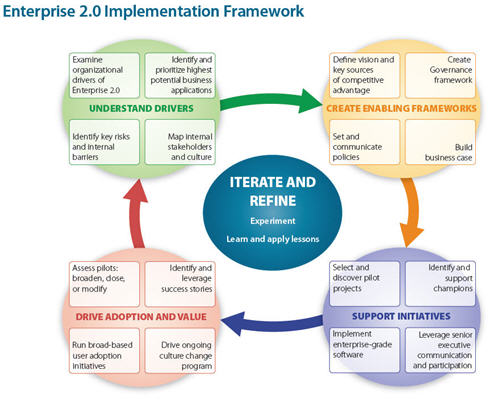 Within the Enterprise 2.0 Implementation Framework above, governance is an absolutely critical and central issue, as I have written about many times before. I have included the chapter on governance because it is so central both to implementing Enterprise 2.0, and to generating business value in a fast-paced environment. Change entails risk and opportunity – governance provides a structure to enable this.
Chapter 4 on Key Risks and Benefits , also available as a free download, examines the risks and benefits that must be considered in the governance process.
The Governance chapter contains:
* Conceptual illustration of social networks in the enterprise (see as a standalone image)
* The importance of the governance
* Six steps in a typical governance process
* Worksheet on stakeholder interests
* Professional service firm case study
You can also just download the pdf of Chapter 7.
Implementing Enterprise 2.0: Chapter 7 – Governance
https://rossdawson.com/wp-content/uploads/2016/07/rdawson_1500x500_rgb-300x100.png
0
0
Ross Dawson
https://rossdawson.com/wp-content/uploads/2016/07/rdawson_1500x500_rgb-300x100.png
Ross Dawson
2009-05-18 16:15:55
2009-05-18 16:15:55
Implementing Enterprise 2.0: Free Chapter 7 – Governance