The Power of Influence lunch was run earlier today. This was in fact the inaugural event of The Insight Exchange. The quality of the event and the feedback augur well for The Insight Exchange future's, and particularly for the value it will create for participants. It was a highly interactive event, with deep content and great discussion.
Below are the notes I took during the event.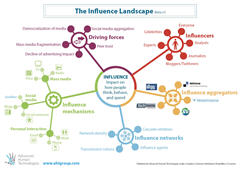 I initially presented the Influence Landscape framework we launched yesterday, after which the three panelists spoke and the event then progressed to a highly interactive discussion among all participants, from which I have taken a few notes as well.
BRIAN GIESEN – OGILVY PR
75% of people don't believe that companies tell the truth in advertising.
In the US 81% look to word of mouth (WOM) for decisions.
Trust in media Editorial is 56%.
Process of Listening (Conversation maps), Planning (Influencer maps), Engaging (Programs)
Characteristics of influencers:
* Engages others in conversations
* Inspires other to continue the conversation
* Participates consistently
* Is seen as credible
* Compels other to want to hear what they say next
* Creates content that is 'remarkable'
Domains of influence
* Blogs, Microblogs
* Video and photo communiteis
* Message boards and forurms
* Social networks
Examples of compaigns:
* Quaker Living Proof Blogger Weekend – get 16 health and wellness bloggers to discuss healthy food.
* Intel Inside gIves a diverse range of prominent social media participants access to key people and resources in the organization.
Trust favours word of mouth over mainstream media. Social media makes it easier for WOM to spread
More info on Ogilvy PR 360 Digital Influence
CLIFF ROSENBERG – DIGITAL ENTREPPRENEUR
Google is a key driver of how you are perceived. You need to be on top of what people see on Google.
Media fragmentation is a powerful trend (how about advertising on rooftops for Google Maps?), but mass media is still important in addition to all the new channels.
Online is now also fragmenting. Rather than going to the biggest sites, go to where the particular niches you'd like to access spend their time.
CPM rates for generic sites are plummeting, but there is still plenty of value in the right context.
From 'organise the world's information' to challenge is now to 'organise the world's people'.
HOWARD PARRY-HUSBANDS – SOUP AND POLLINATE
WOM is genuine, honest, individual, advocacy – The most trusted medium
Key steps
1. Understand network
2. Who influences
3. Engagement platform
4. Sticky mesages
5. Motivate to spread
Use cascade interviews to map influencers, and get directed by them to who are the central hubs and biggest influencers.
You must be completely upfront about what you're doing.
Case study: Tooheys Extra Dry (TED) – gave the brand to the consumers for them to shape.
Through cascade interviews found social influentials – 20 of the people who organise everyone else
Results
777K brand impressions
12% shift in adoration
CONVERSATION/ REFLECTIONS
Authenticity is the foundation.
People will become increasingly dubious about social media/ influencers.
Just as we have filters to work out whether people we meet are trustworthy, we need to get better at working out whether blogs etc are trustworthy.
Motivations for influencers: the three Es
Ego: making people feel important
Exclusivity: giving people exclusive information or access
Empowerment: tell them they made a difference
Organizations need word-of-mouth champions who can help to drive activities and behaviors to support positive word spreading.
A lot more thoughts were generated during the event – much more content and reflections on the influence space coming over the next months!
https://rossdawson.com/wp-content/uploads/2016/07/rdawson_1500x500_rgb-300x100.png
0
0
Ross Dawson
https://rossdawson.com/wp-content/uploads/2016/07/rdawson_1500x500_rgb-300x100.png
Ross Dawson
2009-05-18 22:05:35
2009-05-18 22:05:35
Notes from The Power of Influence