Today we launch our Influence Landscape framework! Click on the image to download the pdf.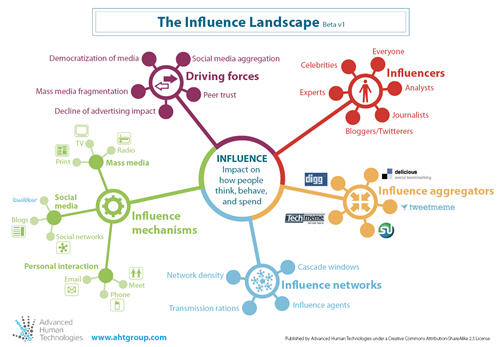 This continues our tradition of creating frameworks to elucidate where things are going, including extremely popular visuals such as Future of Media Strategic Framework, Future of the Media Lifecycle, Enterprise 2.0 Implementation Framework and many more.
The Influence Landscape framework is launched in a Beta version that will be refined and developed over time, as influence is now one of our major research and content directions.
Tomorrow 19 May The Insight Exchange runs The Power of Influence luncheon in Sydney, which will cover how to create value in the emerging influence landscape. We are also preparing our landmark Future of Influence Summit (evolving out of the Future of Media Summit), due 1 September – details very soon!
A few quick comments on the framework:
DRIVING FORCES:
A wide array of forces are shifting value and attention to the influence landscape and from traditional media, advertising, and marketing.
INFLUENCERS:
There are a wide variety of roles played by influencers, with different dynamics for each in how they influence and how they can be reached.
INFLUENCE MECHANISMS:
Influence requires communication, and today a wide and ever-increasing range of channels, from face-to-face meetings to broadcast TV, are mechanisms to spread influence.
INFLUENCE AGGREGATORS:
While influence flows through many channels, one of the drivers making social media more important is that influence of many is aggregated through a variety of tools.
INFLUENCE NETWORKS:
Influence flows through networks – it cannot be understood as a linear mechanism focused on individual influencers. There are a number of key aspects of influence networks that need to be addressed to tap the power of influence.
OVERALL COMMENTS:
This is a Beta which will be refined considerably, so please let us know your thoughts. It is not an attempt to be comprehensive, more an indication of the key issues in the space. However we're particularly keen to hear what glaring omissions or oversights we may have made.
A lot more content on the influence landscape coming over the next months!
https://rossdawson.com/wp-content/uploads/2016/07/rdawson_1500x500_rgb-300x100.png
0
0
Ross Dawson
https://rossdawson.com/wp-content/uploads/2016/07/rdawson_1500x500_rgb-300x100.png
Ross Dawson
2009-05-17 17:13:24
2009-05-17 17:13:24
Launch of the Influence Landscape framework (Beta)