While online technologies have transformed the media along many dimensions, one of the most important ways of understanding this is in how the news cycle has changed.
In the old days news was broken on real-time channels such as radio and TV, reinforced and pushed out to a broader audience through newspapers, discussed again in chat shows, and sometimes had life added to the news with updates or responses.
Today, while elements of that cycle remain, much of it has changed. Twitter has had one of biggest impacts on the news cycle, firstly by often being the first media to break news, in offering a discussion forum around mainstream media coverage, and amplifying stories that have appeared in traditional formats.
I stumbled across a couple of interesting graphics and analysis by Samuel Degremont at Burson-Marsteller Paris who shows some of these changes visually.
Click on the images to see them in full size and read Samuel's detailed discussion (in French).[UPDATE:] Here is the blog post translated into English.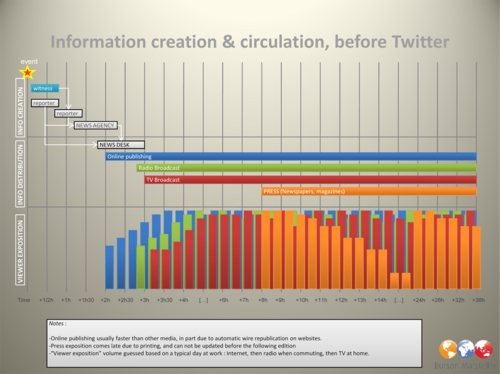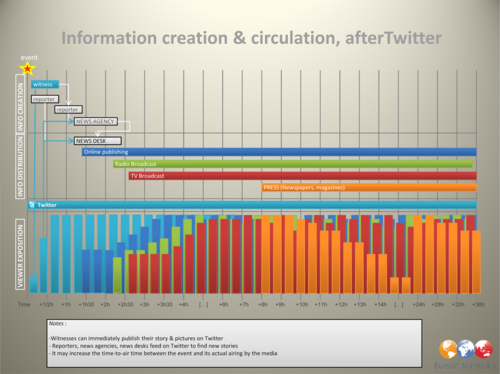 The PR industry has been the greatest student and practitioner of the media cycle. Now the industry is reinventing itself to deal with a dramatically different cycle for how news disseminates. It is a fascinating process to watch.
[NOTE:] See also How Twitter impacts media and journalism: Five Fundamental Factors
https://rossdawson.com/wp-content/uploads/2016/07/rdawson_1500x500_rgb-300x100.png
0
0
Ross Dawson
https://rossdawson.com/wp-content/uploads/2016/07/rdawson_1500x500_rgb-300x100.png
Ross Dawson
2009-08-14 20:01:14
2009-08-14 20:01:14
Twitter's impact on the news and media cycle