Other 2009 summary posts
Top blog posts of 2009: Enterprise 2.0 and organizational effectiveness
Top blog posts of 2009: The future
Top keynote speech presentations/ videos of 2009
At this time of year it's good to look back at the blog posts I've written and see what is most interesting. Some have got quite a lot of attention, other posts I liked got passed over.
Having looked through my blog posts, the most useful approach seems to be by topics. I'll start with a list of six posts on Twitter and the media, including some embeds.
1. Twitter on ABC TV – the impact on politics, media and socializing
The post includes this ABC TV segment on Twitter, which includes interviews with myself and Mark Scott, Managing Director of ABC. Full analysis on the post.
2. How Twitter impacts media and journalism: Five Fundamental Factors
This post got a lot of traction. The Five Fundamental Factors are:
1. Twitter's role in breaking news
2. The accuracy and verification of news on Twitter
3. The pressure for faster news and media
4. Editorial policies and reputation for accuracy
5. The symbiosis of mainstream media and Twitter
3. Event review: Twitter's Impact on Media & Journalism
Review of event run by our events company The Insight Exchange.
4. Twitter and the ever-faster moving news landscape
Excerpt of quotes from me in Associated Press article titled Is Twitter the news outlet for the 21st century? – this article ended up in USA Today, New York Times, Miami Herald, and CBS News among many other outlets.
5. Who will provide the credibility ratings for the journalists of the planet?
On the slightly different but related topic of uncovering how credible journalists are.
6. Twitter's impact on the news and media cycle
Commentary on visualizations of how Twitter changes the media cycle – the first image is below.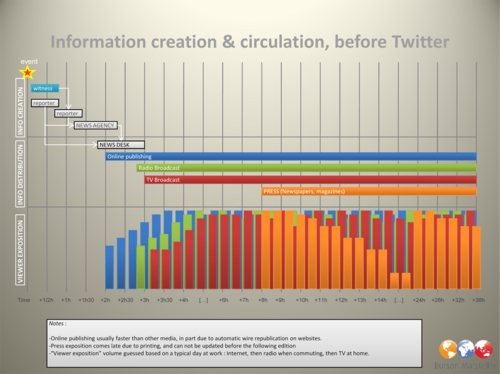 https://rossdawson.com/wp-content/uploads/2016/07/rdawson_1500x500_rgb-300x100.png
0
0
Ross Dawson
https://rossdawson.com/wp-content/uploads/2016/07/rdawson_1500x500_rgb-300x100.png
Ross Dawson
2009-12-21 19:37:21
2009-12-21 19:37:21
Top blog posts of 2009: 6 on Twitter and the media