SmartCompany recently featured an excellent article on The next 10 social media trends, which received considerable attention and was syndicated through a number of other outlets.
I was quoted in the article talking about social shopping and mini-blogs.
Here are a few further thoughts on social shopping. I have written another post on the rise of mini-blogs.
Here is an excerpt from the article:
Shopping itself is also developing a social element thanks to services such as Shwowp, (www.shwowp.com) that lets a user keep track of their shopping history and then share it with others.

Social media researcher Ross Dawson expects strong growth from social shopping services.

"You can browse together what's on the websites, look at different things, and comment on them," Dawson says. "So you can go shopping with your friends, but do it in an online context."
"Social shopping" has many facets and is far from new. Buying on Amazon has been a social experience for many years, as we see what others have bought together with the book we are buying. Consumer reviews – as implemented all over the web – are absolutely part of social shopping, in that we can read what people (presumably) similar to us have thought after making purchases. More recently the use of Facebook 'Like' has made it easy to create online shops that bring in social functionality and the ability to share with friends.
However these are just precursors of what will become far richer and more embedded ways to share the shopping experience. Here are just a few of the current services that illustrate the next phase of social shopping:
– Kaboodle and ThisNext. Social networks to help product discovery, based on recommendations by members. Participants can make recommendation lists, comment on others recommendations, subscribe, and broadcast recommendations on external sites. Here is a nice comparison of these two leaders in the shopping recommendation space:
– ShopTogether. Allows customers to do real-time synchronized online shopping with their friends, emulating a physical group shopping expedition. A toolbar on websites allows people to invite their friends to shop with them and chat as you look at different items. Below is an explanation of how it works from ShopTogether client Mattel
Mattel.Shop.com – ShopTogether from Clear-Media on Vimeo.
– Do Together. DoTogether creates and hosts Facebook apps that allow people to shop together inside of Facebook. This allows simultaneous conversational shopping, and rewards for bringing in friends.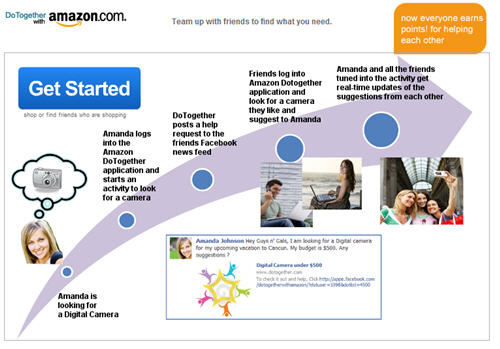 – Blippy.Blippy allows sharing of purchases among friends (or the world at large), using credit card transaction details or other online shopping sites, and has been described as the 'Twitter of personal finance'. People are happier to share their purchase history than we might have thought.
– Shwowp.The recently-launched Shwowp helps people to organize their purchases to see what they are buying and why, share purchases on social networks, and track how you have influenced friends in their own purchases. This could lead to a model where people are rewarded for influencing their friends by their purchases.
Below is a video by the founders of Shwowp (which includes the author and speaker Tara Hunt (missrogue) who spoke at our Future of Influence Summit last year) on shopping and data portability, which is a particularly interesting issue as shopping includes an array of personal and open data, and influence tracking would be greatly facilitated by open platforms.
Shwowp founders talk about how shopping and data portability can work together from The Next Web on Vimeo.
– ShopSocially. ShopSocially combines sharing purchases and getting feedback from friends, with facilitating people being able to ask questions about shopping to their personal network.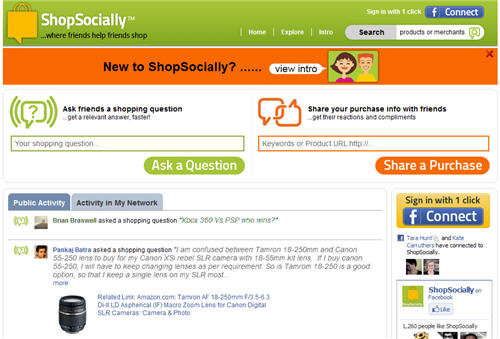 These 7 examples are in the vanguard of a far broader shift to true social shopping. Watch for it in 2011.
https://rossdawson.com/wp-content/uploads/2016/07/rdawson_1500x500_rgb-300x100.png
0
0
Ross Dawson
https://rossdawson.com/wp-content/uploads/2016/07/rdawson_1500x500_rgb-300x100.png
Ross Dawson
2010-12-07 15:59:23
2010-12-07 15:59:23
The rise of social shopping in 2011: 7 examples of where it is going