Trevor Young, aka PR Warrior, is launching a new site Micro Domination which covers the "Global Microbrand Revolution".
The site already includes an excellent free e-book The Micro Maven Revolution. You can download it from here or by clicking on the cover below.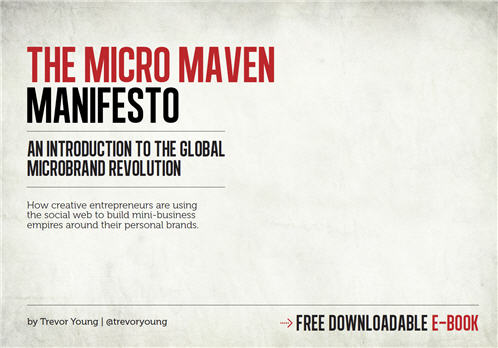 Trevor opens the book by practising what he preaches, highlighting his capabilities and brand in a low-key way in front of excellent content. He then describes the core idea:

The social web has given birth to a new breed of creative entrepreneurs who stride the virtual globe attracting fans and picking up business, often from the comfort of their home (or more often than not, on the road somewhere). Sometimes their location is quite exotic such as Costa Rica or the Philippines – but more often than not they live in a normal suburban house or city apartment in somewhere like Boston, New York, Vancouver, Melbourne, or Raleigh-Durham in North Carolina.
…
These personal branding machines have managed to turn their passion into products, their knowledge and expertise into multiple revenue streams that combined often far outweigh what they earned in previous salaried positions working for someone else.

I refer to this new breed of creative entrepreneurs as 'Micro Mavens'.
The trend Trevor describes has been increasingly evident for the last few years. However it is valuable to frame it in this way, so people can easily grasp the idea and make it their own. The e-book, which comprises 30 quickly-read slides, neatly encapsulates the idea, gives examples, and provides advice for action. The most powerful part of the book is that it is a perfect illustration of the concepts Trevor puts forward.
The book concludes with a 7 point Micro Maven Manifesto, with the following action points:
1. KEEP IT REAL
ACTION: Be your genuine, authentic self always, both online and offline; inject your personality into your content, and never be afraid to 'be yourself' in dealing with your audience.

2. CREATE CONTENT … OFTEN
ACTION: Develop a digital platform (blog/online hub) and produce for it a regular stream of high quality and relevant content that informs and/or entertains and/or inspires your audience.

3. BE SOCIAL
ACTION: Join at least two major social networks and participate regularly (however, make sure you keep overt promotional stuff to about 10-15 per cent of your overall online activity).

4. HELP OTHERS (BUT EXPECT NOTHING IN RETURN)
ACTION: Whether online or offline, always be open and available to help others – proactively seek ways to assist people and deliver value without expecting anything in return.

5. CULTIVATE & NURTURE A TRIBE OF FOLLOWERS
ACTION: Increase the intensity of connection you have with your audience through the regular delivery of compelling original content, personal interaction with others and ongoing conversation on topics that resonate with your audience. As master communitybuilder Darren Rowse succinctly puts it: Look after the readers you already have – "love them to death".

6. DEVELOP MULTIPLE REVENUE STREAMS
ACTION: Scope out and develop potential revenue streams relevant to your business and personal brand – write a book, secure speaking gigs, hold workshops, create an online course, develop a membership site, become an affiliate partner for others' products.

7. TAKE IT TO THE STREETS
ACTION: Get involved – attend relevant seminars and conferences, speak at events, organize meet-ups and participate in informal morning coffee gatherings. In other words, get your ass out of the office and away from the computer!
Definitely read the complete e-book for more detailed insights.
While I am following a distinct path, it is highly aligned with what Trevor describes, and I fully agree with his advice. The path of 'Micro Maven' is one that many more people will be following in their own way in coming years.
https://rossdawson.com/wp-content/uploads/2016/07/rdawson_1500x500_rgb-300x100.png
0
0
Ross Dawson
https://rossdawson.com/wp-content/uploads/2016/07/rdawson_1500x500_rgb-300x100.png
Ross Dawson
2012-07-02 12:39:01
2012-07-02 12:39:01
The rise of micro mavens: Building business empires around personal brands