Last Friday I was interviewed for a segment on ABC 7pm News about alcohol advertising on social media. Click on the image below to see the video.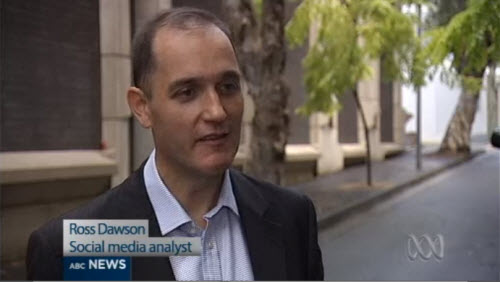 The piece begins:

There are concerns alcohol companies may be turning to the colourful world of social media to promote drinks to minors.

There are already widespread limits on alcohol advertising for traditional media like television, but on social media it thrives.

Alcohol brands have flocked to social media sites like Twitter and Facebook, posting competitions, cocktail recipes and even TV advertisements.

The ads are bright, fun and at the fingertips of children.
The segment quotes the Australian Medical Association president, who notes that social media has a lot of power. The piece goes on:
Social media analyst Ross Dawson agrees.

"The alcohol companies are seeing social media as another way of getting to their consumers and they are actively embracing that," he said.

Some social media sites have incorporated age filters to prevent underage users accessing the content, but Mr Dawson says they are not effective.

"In social media, as in other advertising, certainly underage people are being exposed to this," he said.

"We can do more and we should do more to prevent minors being exposed to alcohol advertising."
The Australian advertising industry is self-regulating, with the chairwoman of the Alcohol Beverage Advertising code saying in the TV news piece that the code will be reviewed this year to account for the rise of social media.
The Advertising Standards Bureau, Australia's advertising self-regulatory body, has long covered social media as well as traditional advertising.
On the face of it, regulations that work for mainstream media advertising should usually work when applied to social media.
However the degree of engagement that people have with social media, combined with the blurred lines around age, mean there is a good case for distinct consideration of advertising and promotion restrictions.
These are issues we need to engage with as a society.
https://rossdawson.com/wp-content/uploads/2016/07/rdawson_1500x500_rgb-300x100.png
0
0
Ross Dawson
https://rossdawson.com/wp-content/uploads/2016/07/rdawson_1500x500_rgb-300x100.png
Ross Dawson
2013-04-16 12:38:57
2013-04-16 12:38:57
Promoting alcohol on social media: where do we draw the line?