I am delighted to announce a massive transition in my work and life: launching a new group of companies with other amazing founders that expands and accelerates my vision.
It is now over 20 years since I left employment and started building the Advanced Human Technologies group of companies, which spanned professional services, publishing, events, apps and software development. We had many landmarks and successes along the way.
The reason to bring these ventures into a new group is simply to enact the same vision I have long had on a larger stage and scale.
Genesis
Early last year I met Julian Ward at an entrepreneurial meetup I had organised in Bondi Beach. We started discussing the world of marketing, and by the end of our first meeting had agreed to build a publication on the future of agencies.
Julian was already developing plans for a new style of company relevant for a fast-changing world. As we discussed it, it was clear that we not only had exceptional alignment on our vision, but also highly complementary capabilities. We have brought together our visions and I have integrated my existing active ventures into the new group.
Rh7thm is born
The new ventures group based around Rh7thm has been operational for over a year now, however we have chosen to work in stealth mode until now so we could build the vision and foundations to a point where the group is ready for prime time. Apologies for not being more forthcoming about my ventures for the last year.
Part of that journey has been bringing into the executive team a set of exceptional, highly-experienced leaders, including Rosanna Iacono, Rob Shwetz and Phil Brown.
To understand Rh7thm it is best to explore the company website. Our launch video below also provides insights into our work.
In essence the group brings together leading-edge marketing and innovation services for high-end corporates with a ventures group, where we earn equity in transformational startups through advisory and investment, and establish and build our own group of ventures aligned with where we see the future going.
The corporate services and venture ecosystem feed on each other, enabling us to keep on the edge of change and help our clients succeed even while the business environment rapidly changes.
Our 7 Drivers of Change diagram below shows the primary domains where we see and tap into opportunities. More on this later.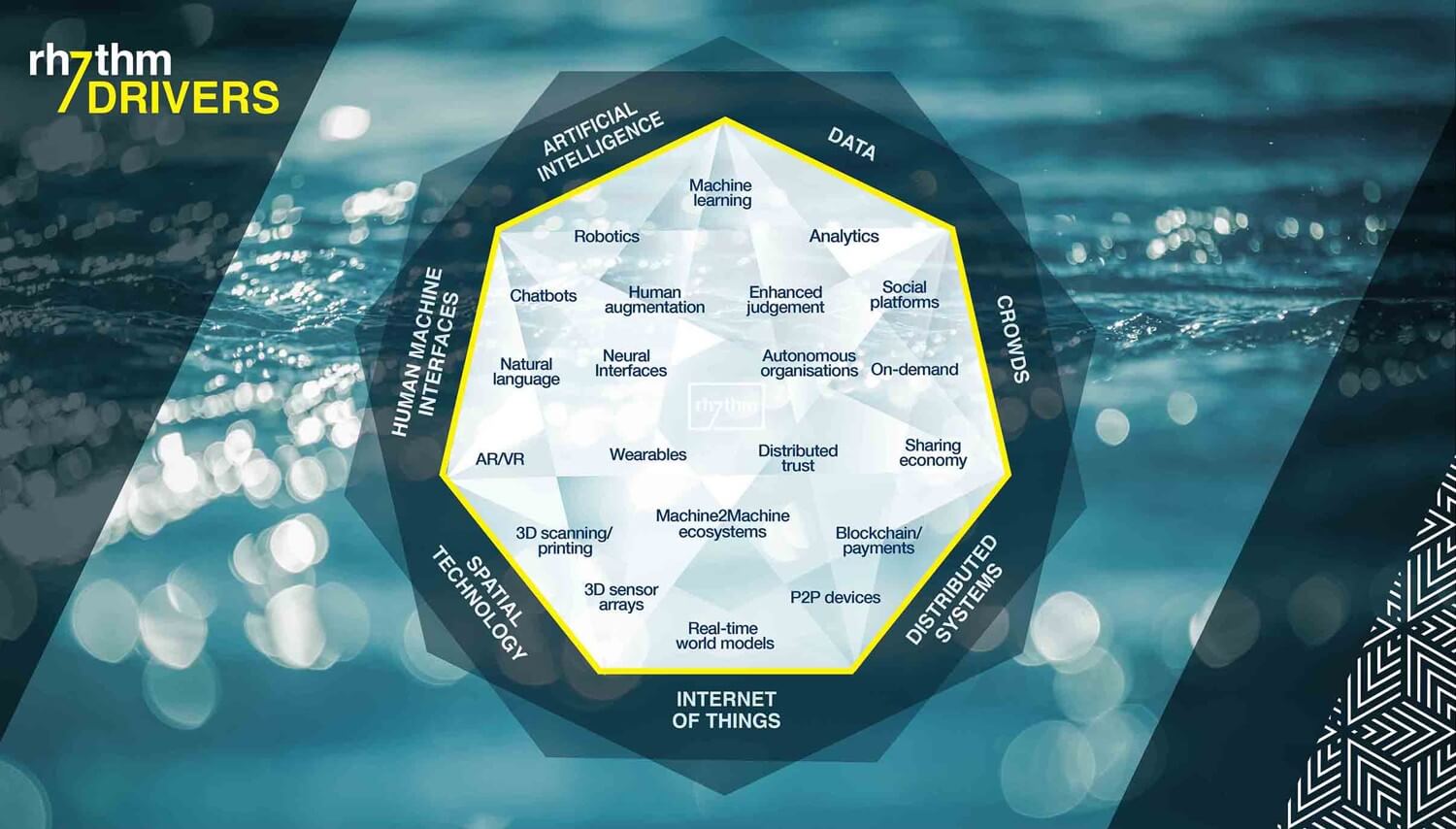 An exciting journey ahead
My long-standing work as a futurist is central to Rh7thm's capabilities and positioning, and I will continue to work globally with leading organisations to help them and their clients engage successfully with the future. I will however be increasingly selective on the engagements I accept.
A large proportion of my time and energy will be spent in my primary role as CEO of the R7 Group, the group's parent organisation, building the platform for the group's success, and on some of the new ventures that we launch.
I am incredibly excited to be on this new journey. There has been no change to my vision of what is possible as opportunities emerge from the amazing shifts we are experiencing.
The potential of that vision is now amplified as we draw on far greater resources and a far deeper pool of talent.
I'll keep you posted on the way as we create, discover and learn on the journey.
https://rossdawson.com/wp-content/uploads/2017/06/Rh7thm_cover.png
1199
2960
Ross Dawson
https://rossdawson.com/wp-content/uploads/2016/07/rdawson_1500x500_rgb-300x100.png
Ross Dawson
2017-06-21 02:54:12
2020-06-18 04:06:47
Phase transition: I am launching a new group of companies