In-house PR professionals, agency PR professionals and client-side marketers are known for their differences of opinion about the future of public relations. Key points that these stakeholders disagree and agree on are outlined in the Global Communications Report 2017, compiled by the USC Center for Public Relations and the Association of National Advertisers in consultation with their partner organizations. Here are five important insights drawn from the report and its associated research on The Evolution of Public Relations.
1. PR is becoming more important to marketing, even as both disciplines continue to converge
Client-side marketers plan to increase both internal staffing and overall spending on public relations over the next five years, according to ANA's 2017 survey of U.S. marketers.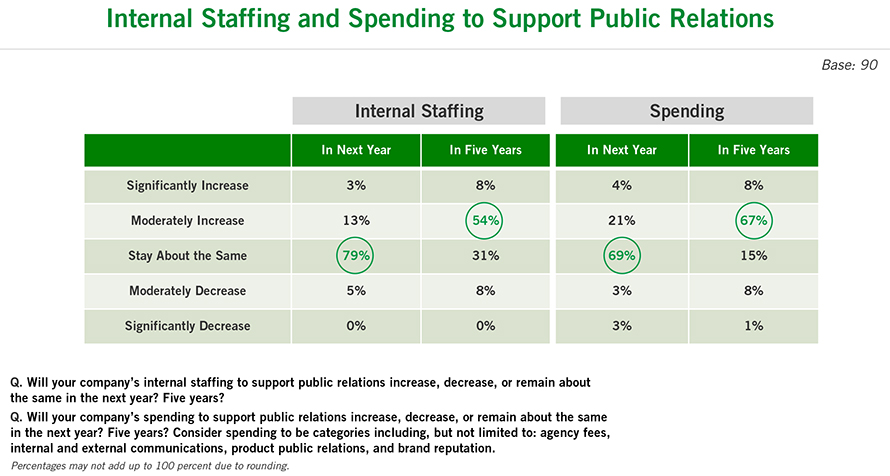 Increased spending suggests that public relations is "becoming more important to marketers", said ANA's Group EVP Bill Duggan, citing the crucial role for PR in managing digital communication and feedback loops.
At the same time, a majority of surveyed marketers (61%) believed that PR will become more closely aligned with marketing, while 20% went so far as to say that PR will become a subset of marketing.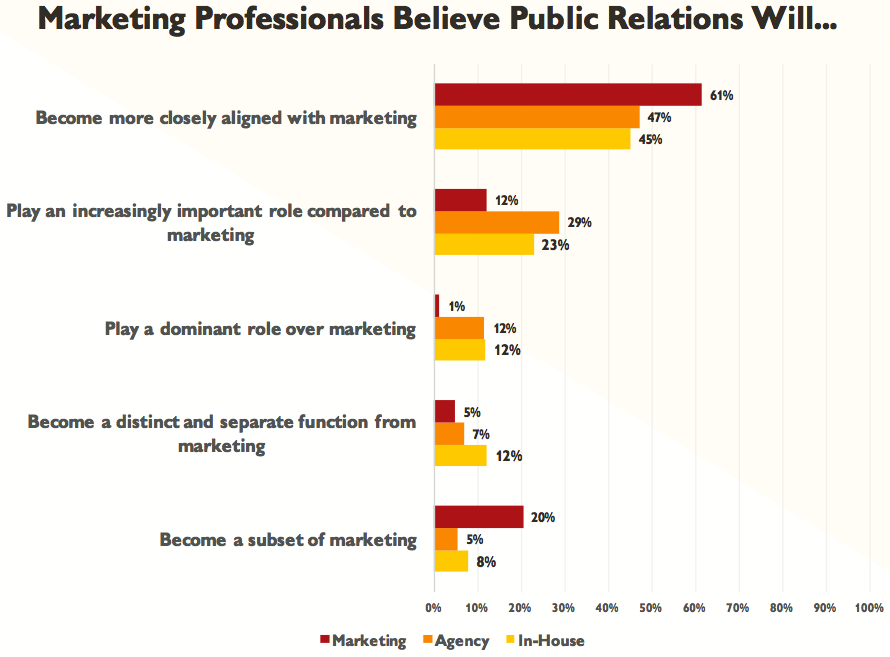 The global and U.S. PR professionals surveyed, however, were more hesitant about the convergence of PR and marketing. PR agency leaders indicated that they report most frequently into corporate communications (39%), which is more than into marketing (21%) or brand management (12%), but this gap is narrowing as client solutions become increasingly integrated.
Meanwhile, 18% of corporate communications departments were reporting into marketing. This proportion could grow if more organizations follow the example of Procter & Gamble, Virgin America and other well known companies by restructuring their marketing functions to include PR.
Whether convergence will expand or diminish the role of the PR professional is hotly contested. What does seem likely is that a broader skill set will be required to navigate the fluidity of marketing and PR in a digital world.
2. Declining revenues from earned media will put the spotlight on paid, shared and owned media – and the skills required to profit from them
PR agencies and in-house PR teams alike expect declining revenues from earned media over the next five years, prompting more spending on paid, shared and owned media.

Supporting this shift, over 60% of surveyed PR executives believed that branded content and influencer marketing, which are both primarily paid, will be important trends over the next five years.
Paid content, however, has long been the domain of advertising. PR professionals in a changing media landscape may benefit from mastering media buying, the report suggests, but this currently ranks last on the list of skills PR professionals consider important for future growth.
Meanwhile, more than half of the PR executives in the study believed that the consumer of the future will not distinguish between paid and earned media. Another one-third disagreed. The answer to this debate could have significant implications for all stakeholders.
3. PR professionals must harness social listening, digital storytelling, and social purpose
Digital can improve the quality of public relations by enabling instant outbound communication and inbound feedback. In this dynamic environment, PR professionals believe the most important trends impacting the future of the PR will be digital storytelling (88%), social listening (82%), social purpose (71%), and big data (70%).
Marketing professionals showed some consensus with PR professionals about these trends, but prioritized social listening (88%) over digital storytelling (80%), and real-time marketing (69%), influencer marketing (68%) and branded content (67%) over big data (63%).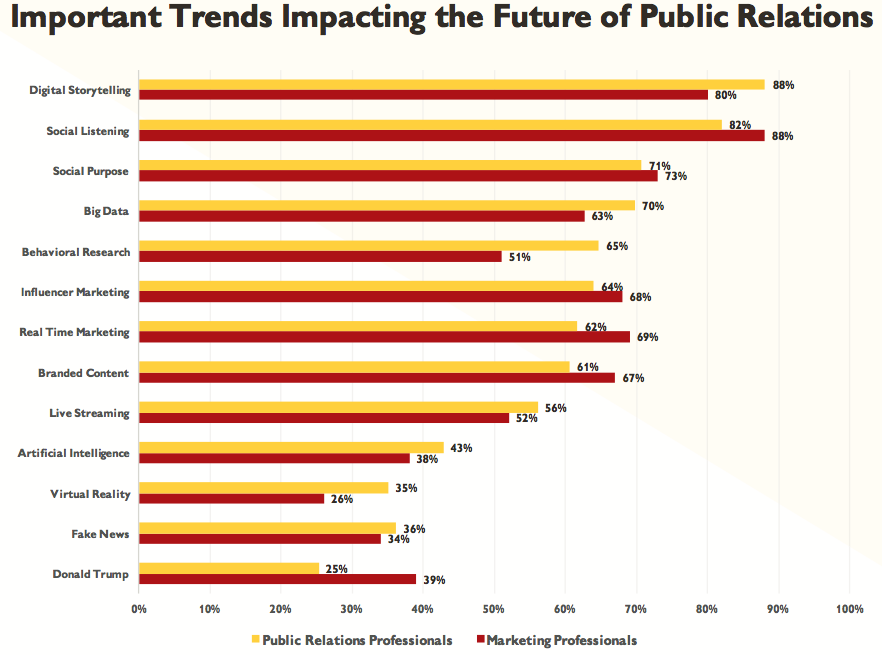 Both groups agree on the importance of social purpose, which can be vital to the direction, cohesion and outcomes of the other top trends.
4. More clients will hire agencies to provide strategy, expertise, and creative thinking
The rising emphasis on strategy and creative in the client/agency relationship is a clear theme in both the 2016 and 2017 editions of the Global Communications Report.
For the in-house marketing professionals surveyed in 2017, the top reasons for working with PR agencies were strategic insights (67%), creative thinking (64%), specific practice areas (63%), media relations (62%), digital and social media (60%), and measurement and evaluation (60%).
For in-house PR professionals, the top reasons for working with PR agencies were similar: strategic insights (69%), creative thinking (69%), specific practice areas (62%), and digital and social media (61%). However, there was less emphasis on measurement and evaluation (50%) and media relations (49%).

The growing strategic and creative input of PR agencies needs to be reflected in compensation models, says Fred Cook, Director of the USC Center for Public Relations, who suggests focusing more on value delivered than hours spent.
5. The value of PR will depend on achieving measurable business objectives
The vast majority of surveyed PR and marketing professionals believed that PR can best increase its value by demonstrating how PR programs achieve measurable business objectives.

However, improving measurement of results itself was a lower priority for PR in the eyes of PR professionals than marketing professionals, who, in turn, were less preoccupied about PR's ability to address the wants and needs of all stakeholders. These disparities in stakeholder expectations can be reduced by establishing clear goals from the outset, as the report recommends.
The report also highlights the growing demand for PR to develop sophisticated ways to measure less-tangible variables like brand reputation, purchase intent, leadership, and creativity.
Repositioning PR to maximize relevance and talent
The five key insights above provide some clues as to how PR might reposition itself as an aspirational career choice – something which less than one-third of PR executives believe the industry is doing well. Given that recruiting and retaining the right talent remains a big challenge for PR, it will be interesting to see how the growing demand for strategic thinking – ranked in the study as the most important skill for today's PR professionals – will shape PR in the years to come.
Table: The Evolution of Public Relations report by ANA and the USC Annenberg Center for Public Relations
Graphs and charts: the Global Communications Report 2017, presented by The Holmes Report and USC Annenberg Center for Public Relations
https://rossdawson.com/wp-content/uploads/2016/07/rdawson_1500x500_rgb-300x100.png
0
0
Vanessa Cartwright
https://rossdawson.com/wp-content/uploads/2016/07/rdawson_1500x500_rgb-300x100.png
Vanessa Cartwright
2017-06-14 13:19:28
2020-06-18 03:52:20
The Changing Role of Public Relations: 5 Insights from the Global Communications Report 2017