As a futurist, the end of the year means it is once again time to release a structured look at the future.
As every year, at Future Exploration Network we are using a substantially different format from our most other annual frameworks, 12 Themes for 2012 and Zeitgeist 2011.
This year we are focusing on what will appear and disappear in our everyday lives next year and beyond. We are once again collaborating with Richard Watson of NowandNext.com, following the extensive work we've done together in the past, notably on the famous 'London tube map' 2007+ Trend Blend (the original trendsetter for all the other city underground trend maps over the last years), 2008+ Trend Blend, and our highly popular Extinction Timeline.
As always the framework is released on a Creative Commons license so please feel free to download and share.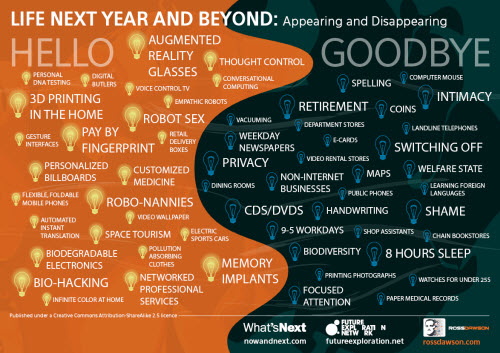 Click on the image for the full-size framework

Here is the full list in text form (in no particular order):
APPEARING
Augmented reality glasses
Thought control
3D printing in the home
Personal DNA testing
Digital butlers
Voice control TV
Customized medicine
Pay by fingerprint
Electric sports cars
Robot sex
Conversational computing
Empathic robots
Gesture interfaces
Flexible, foldable mobile phones
Robo-nannies
Infinite color at home
Personalized billboards
Networked professional services
Bio-Hacking
Pollution absorbing clothes
Biodegradable electronics
Automated instant translation
Memory implants
Video wallpaper
Retail delivery boxes
DISAPPEARING
Intimacy
Computer mouse
Spelling
Landline telephones
Coins
Privacy
Video rental stores
Public phones
Vacuuming
Retirement
Weekday newspapers
CDs/DVDs
Chain bookstores
e-Cards
Space tourism
8 hours sleep
Switching off
9-5 workdays
Dining rooms
Handwriting
Shop assistants
Biodiversity
Non-internet businesses
Printing photographs
Welfare state
Learning foreign languages
Paper medical records
Watches for under 25s
Focused attention
Maps
Shame
https://rossdawson.com/wp-content/uploads/2016/07/rdawson_1500x500_rgb-300x100.png
0
0
Ross Dawson
https://rossdawson.com/wp-content/uploads/2016/07/rdawson_1500x500_rgb-300x100.png
Ross Dawson
2012-12-17 11:44:29
2020-06-18 04:19:07
New framework: 2013 and beyond - What will appear and disappear in our lives