My recent European speaking tour was divided around equally between deep dives into crowdsourcing and where it is going, and keynotes and workshops for Chief Information Officers on shifts in the business environment and how that will shape the future of the IT function.
A key theme of the CIO workshops was their opportunity and responsibility to move to the center of strategy within their organizations.
My Transformation of Business Framework provides an overview of some of the driving forces and how they are playing out across the business landscape.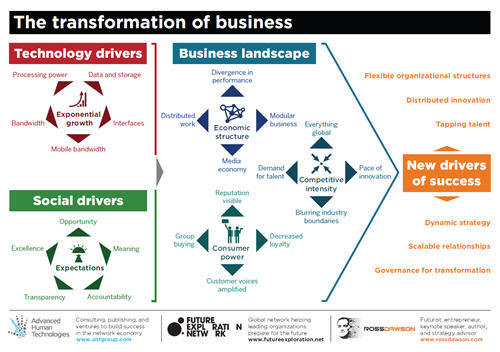 Click on the image for full-size pdf
I think it is often useful to consider what the business environment might be in say five years from now, and the characteristics of organizations that will be successful in that world.
Some of the ways we are likely to describe those successful organizations include:

* Flexible
* Responsive
* Extended
* Networked
* Integrated
* Talented
* Scalable
* Open
* Innovative
While there are clearly many facets of organizations that contribute to these characteristics, not least culture and structure, there are strong information components to each of these.
In addition, organizational strategy increasingly depends on changing information flows, including in how they introduce new competition, change industry structure, and often shift the locus of value creation.
It is the responsibility of a CIO is to educate the rest of the executive team and the organization on the implications and possibilities of soaring connectivity, storage, and processing power, whether or not they are initially receptive to those messages.
There is an undoubted opportunity for the CIO to shift to the center of strategic thinking and decision-making. The IT function has historically often been a support function. Hopefully it is now in most cases positioned well beyond that.
The CIO must be at the heart of strategy in any organization that hopes to succeed in the chaotic and complex times ahead.
https://rossdawson.com/wp-content/uploads/2016/07/rdawson_1500x500_rgb-300x100.png
0
0
Ross Dawson
https://rossdawson.com/wp-content/uploads/2016/07/rdawson_1500x500_rgb-300x100.png
Ross Dawson
2012-07-03 12:02:50
2012-07-03 12:02:50
Moving the CIO to the heart of strategy