Living Networks has just been relaunched in an Anniversary Edition, to mark five years since its original publication by Financial Times/ Prentice Hall in November 2002. Other than slightly dated case studies and examples, I believe almost every aspect of the book is current and highly relevant today. Revisiting the foundations of our networked age is enormously relevant today, as the last five years have in fact largely realized what I originally wrote in Living Networks.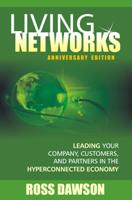 The book is available for purchase on Amazon.com and other major booksellers. In addition every chapter of the book will be available for free download from this blog and the Living Networks book website. Over the next weeks I will serialize the chapters on this blog, with commentary and updates for each chapter with the benefits of over five years of hindsight. So just come back to the blog or Living Networks website regularly or subscribe on your RSS reader. Below is the table of contents and Preface to the Anniversary Edition, which describes in more detail the background to the relaunch.
Since writing the preface, and having re-read the book in more detail, I find myself startled by how contemporary it is. In a way I think much of the book could in fact be more relevant and useful than it was in 2002, now that our networked world has been truly born and begins to mature.
Living Networks – Table Of Contents
Preface to the Anniversary Edition (below)
Chapter 1 – The Networks Come Alive: What the Changing Flow of Information and Ideas Means For Business
Chapter 2 – Emerging Technologies: How Standards and Integration Are Driving Business Strategy
Chapter 3 – The New Organization: Leadership Across Blurring Boundaries
Chapter 4 – Relationship Rules: Building Trust and Attention in the Tangled Web
Chapter 5 – Distributed Innovation: Intellectual Property in a Collaborative World
Chapter 6 – Network Presence: Harnessing the Flow of Marketing, Customer Feedback, and Knowledge
Chapter 7 – The Flow Economy: Opportunities and Risks in the New Convergence
Chapter 8 – Next Generation Content Distribution: Creating Value When Digital Products Flow Freely
Chapter 9 – The Flow of Services: Reframing Digital and Professional Services
Chapter 10 – Liberating Individuals: Network Strategy for Free Agents
Chapter 11 – Future Networks: The Evolution of Business
Preface to the Anniversary Edition
It is fascinating to reflect on the five years that have passed since Living Networks was first published in November 2002. In many ways that was the dawning of the age of networks, though by then it hadn't yet been widely recognized. In those days the idea that the networks were coming to life was a pretty radical idea. Today many people simply nod in immediate understanding at the concept of the living networks.
Soon after the publication of Living Networks, the emergence of Friendster, MySpace, LinkedIn, and Facebook – to name just a few among a vast proliferation of social networks –provided literally hundreds of millions of people across the planet with a direct, personal experience of the rise of a networked world.
The first words of Living Networks were about how companies were using blogs. Since I first came across blogs I have believed they were a transformative tool. Certainly the intervening years have borne that out, with now over 100 million blogs existing worldwide, and blogs now comprising over 20% of the 100 most popular online media sites. My own blog Trends in the Living Networks (rossdawsonblog.com), launched five years ago to accompany this book, has been central to the extremely pleasing growth of my companies.
Organizational network analysis, which I described in Chapter 6, has since become a mainstream business tool. The success of the University of Virginia's Network Roundtable, a consortium of 100 leading organizations where I am now a research leader, has demonstrated the power of network approaches to improving performance across business and government.
Living Networks is founded on extensive examples and case studies of actual corporate practice. It's interesting to see that many of the stories I used are still very current. Some of the most prominent business books out in the last year, including Wikinomics, The Starfish and the Spider, and Open Business Models, have used many of the same case studies that I did five years earlier. Stories such as Canadian miner Goldcorp's use of open source approaches, Collabnet, Innocentive, Procter & Gamble's Connect & Develop program, and many others described in Living Networks are still viewed as cutting-edge examples years later. "We the Media," a section title in Chapter 1 of Living Networks, was later used as the title for a book.
So why am I relaunching Living Networks now? In hindsight, the book came out before most people were ready for the message, and in the depths of the dot-com bust. As such, the book probably didn't get the attention it might have if it were released a year or two later.
Five years after it was first published, certainly some of the value of relaunching Living Networks is as an historical document, in seeing where things stood as the networks were being born.
In some ways the world has moved on substantially over the last five years. The rise of what is now called Web 2.0, assisted by new technologies including AJAX, has changed the nature of the Internet. The landscape of digital rights management has changed dramatically from the playing field of 2002. Software-based services have progressed substantially over the last five years. Word of mouth marketing has become an entire industry with its own assocation.
However much of what was covered in Living Networks is still at least as relevant today as five years ago. Standards strategy is shaping industry structure more than ever. The power of distributed innovation is even more compelling today, and still barely tapped by most corporations. In our hyper-connected economy, trust, relationships, and personalization only increase in importance. Participative strategy development is finally becoming a common approach to strategy and leadership. The free agent economy is becoming ever-more enabled by the living networks as years go by.
The flow economy framework for business strategy I proposed in Chapter 7 is if anything even more relevant and useful today than five years ago, as many of my clients have discovered. Most importantly, collaboration across boundaries is becoming increasingly critical to the future of business, making executives' attitudes to this issue absolutely central to their success.
Two years ago I founded Future Exploration Network, what is now a global strategy and events company that helps organizations understand – and create – the long-term future of business. Much of my speaking and consulting work today is about the future of business.
Journalists love to find out what 'futurists' have predicted in the past so they can see how right – or wrong! – they were. In Chapter 11 of Living Networks I made 10 predictions for the future of business. Many of the predictions were long-term, so we can't
https://rossdawson.com/wp-content/uploads/2016/07/rdawson_1500x500_rgb-300x100.png
0
0
Ross Dawson
https://rossdawson.com/wp-content/uploads/2016/07/rdawson_1500x500_rgb-300x100.png
Ross Dawson
2008-04-22 04:42:05
2020-06-18 04:06:49
Launch of Living Networks - Anniversary Edition! Free download of entire book