We have just launched our new recruitment site We're Looking For Talent.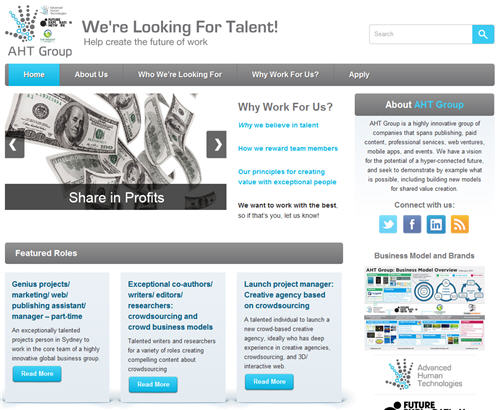 Crowd business models are a major theme for us in our publishing and events. They are also at the heart of the AHT Group business model. As we build our businesses we want to see how far we can take the use of distributed work.
We currently tap work and talent on a wide variety of crowdsourcing sites, but we have reached the stage of creating our own platform in finding the best people to work with.
The principles for how we seek to attract talent are described in detail on the page Why Work For Us?, which is the best place to read about what we are doing, however I've provided a brief summary below.

Key principles. The heart of the model is our belief in talent, and offering flexible part-time work to draw on what we see as a deep pool of talent.
Pay and rewards. We will pay team members for their work within a lean startup structure, and offer a share in profits using a point system that recognizes contributions and value creation. There is also the potential for some people to be given equity in new ventures.
Process for joining the team. There is an extended process to fully engage with the team, including tests, trials, and a period of building deeper engagement.
Location. Some roles will be based in Sydney, others can be done from anywhere, and some roles can be done globally but we will prefer people in Sydney if we can find the right capabilities.
Evolution. We will evolve the model over time, and share the lessons we learn along the way. A large part of our intent is to provide others with a useful framework for building crowd-based business models.
Roles we are looking for now and in the near future include a core team project manager, an agency launch manager, creative project managers, 3D infographic designers, web developers with expertise in APIs, and writers on a wide variety of topics including crowdsourcing, personal branding, and the future of sex.
This is an experiment, and we no doubt have much to learn. However we have been building the foundations for this step for a long time, including establishing project structures and methodologies that will enable us to best tap a growing distributed team.
I'll provide regular updates on how the model is working and the lessons learned along the way. It's a very exciting time for our companies and the entire team.
https://rossdawson.com/wp-content/uploads/2016/07/rdawson_1500x500_rgb-300x100.png
0
0
Ross Dawson
https://rossdawson.com/wp-content/uploads/2016/07/rdawson_1500x500_rgb-300x100.png
Ross Dawson
2012-08-16 11:42:37
2012-08-16 11:42:37
Launch of We're Looking For Talent - the foundation of a crowd business model