Advanced Human Technologies Group has just launched Creating the Future of PR, a publication that looks at how the Public Relations industry can create an exceptional future for itself and its clients in a fast-changing world.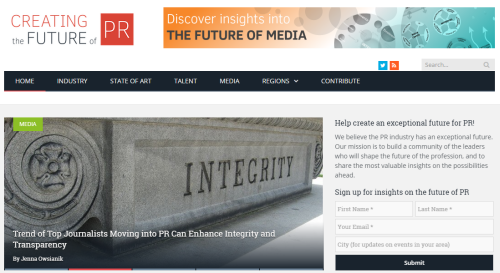 In my article Join Us in Creating the Future of PR I frame the context for the launch of the publication:
The fundamental capabilities of PR professionals are more relevant than ever in our intensely networked world. Arguably, PR should be at the center of the marketing universe, since it is better able than any other discipline to deal with a world driven by relationships, fueled by connectivity, social, mobile, and power shifting to the individual.

The big question is: will the PR industry seize the immense opportunity before it?

Both in my own work and that of my companies we work extensively with PR agencies.
I have personally worked with a number of major PR globally agencies in framing the future of media. I am also frequently engaged by PR agencies on behalf of their clients to deliver keynotes at customer events and to act as a spokesperson for media campaigns.
Among the many services that our companies work with PR agencies on, notably Future Exploration Network creates compelling futurist content to support media and B2B marketing campaigns, Advanced Human Technologies does organisational and influence network analysis for designing high-performance organisations and campaigns, and MemeStreme (to be launched soon) will offer world-class interactive information visualizations.
However beyond these direct engagement points, it is clear that in a networked world marketing is being completely transformed. I believe that leading PR professionals – whose business is relationships – are probably best equipped to truly understand a world of distributed relationships, and find successful pathways to the future.
Please have look at Creating the Future of PR, join the conversations in our Creating the Future of PR Facebook Group, and let us know if you would like to contribute to the publication.
We will also be running a Creating the Future of PR Forum in Sydney this October, and will collaborate with local partners to run events in other major cities around the world.
Please do participate and pass on word to those who would be interested in this, our intention is over time to build something that will be truly valuable for the industry.
https://rossdawson.com/wp-content/uploads/2016/07/rdawson_1500x500_rgb-300x100.png
0
0
Ross Dawson
https://rossdawson.com/wp-content/uploads/2016/07/rdawson_1500x500_rgb-300x100.png
Ross Dawson
2015-08-10 12:25:05
2015-08-10 12:25:05
Launch of Creating the Future of PR - shaping an exceptional future for the industry