On Friday I spoke at the Distinguished Leadership & Innovation Conference organized by the Caribbean's premier business school Arthur Lok Jack Global School of Business.
I delivered the opening keynote on Shaping the Future of Business and also a workshop on Building and Implementing an Innovation Strategy.
Since it was a brief workshop to cover a very big topic I shared an Innovation Strategy Cheat Sheet with attendees, shown below, and as an interactive workshop took them through the issues they need to consider in creating an effective innovation strategy. Click here or on the image below to download the full page pdf.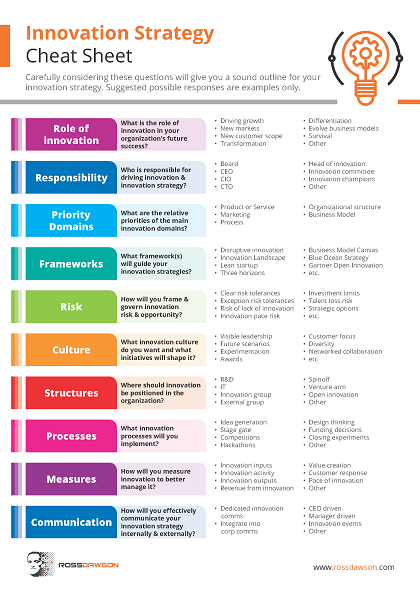 Why an Innovation strategy?
Not every organization needs an innovation strategy. It may be implicit or central to overall corporate strategy and not need separate articulation.
In theory for some organizations innovation may not be a high enough priority, however I find it difficult to imagine any entity – commercial, government, or not-for-profit – that can assume their current model will remain relevant for the indefinite future.
Often an innovation strategy helps the board, shareholders, or executive team confirm that it does have a clear frame around the ongoing renewal of the organization in a rapidly changing world. It identifies what there is that is tangible beyond the usual innovation rhetoric.
As importantly, it provides structure and guidance to those in the front-line driving the organization forward, so their efforts are aligned with company's vision and intent.
How to use the Cheat Sheet
There is of course no substitute for the deep examination and reflection which a solid innovation strategy requires. However for many who are effectively responsible for innovation, it is not evident where to start on the journey of articulating a clear innovation strategy.
The Cheat Sheet does not provide answers, but poses the most important questions that need to be answered or explored in building an effective strategy.
These questions can be examined by boards, executive teams, innovation committees, or other compact groups to frame the role of innovation and how the organization can enhance its capabilities and effectiveness in renewal. All of the questions need to be considered in some form.
The output does not need to be a document or other explicit 'innovation strategy'. Simply carefully engaging with these questions and possible answers can raise awareness of the relevant issues enough to make innovation intrinsic to all strategic conversations.
Innovation Strategy Cheat Sheet: content
Carefully considering these questions will give you a sound outline for your innovation strategy. Suggested possible responses are examples only.
Role of innovation
What is the role of innovation in your organization's future success?
Driving growth
New markets
New customer scope
Transformation
Differentiation
Evolve business models
Survival
Other
Responsibility
Who is responsible for driving innovation and innovation strategy?
Board
CEO
CIO
CTO
Head of innovation
Innovation committee
Innovation champions
Other
Priority innovation domains
What are the relative priorities of the main innovation domains?
Product or Service
Marketing
Process
Organizational structure
Business Model
Frameworks
What framework(s) will guide your innovation strategies?
Disruptive innovation
Innovation Landscape
Lean startup
Three horizons
Business Model Canvas
Blue Ocean Strategy
Gartner Open Innovation
etc.
Risk
How will you frame and govern innovation risk and opportunity?
Clear risk tolerances
Exception risk tolerances
Risk of lack of innovation
Innovation pace risk
Investment limits
Talent loss risk
etc.
Culture
What innovation culture do you want and what initiatives will shape it?
Visible leadership
Future scenarios
Experimentation
Awards
Customer focus
Diversity
Networked collaboration
etc.
Structures
Where should innovation be positioned in the organization?
R&D
IT
Innovation group
External group
Spinoff
Venture arm
Open innovation
Other
Processes
What innovation processes will you implement?
Idea generation
Stage gate
Competitions
Hackathons
Design thinking
Funding decisions
Closing experiments
Other
Measures
How will you measure innovation to better manage it?
Innovation inputs
Innovation activity
Innovation outputs
Revenue from innovation
Value creation
Customer response
Pace of innovation
Other
Communication
How will you effectively communicate your innovation strategy internally and externally?
Dedicated innovation comms
Integrate into corp comms
CEO driven
Manager driven
Innovation events
Other
https://rossdawson.com/wp-content/uploads/2021/03/light_bulbs_innovation_cropped.jpg
366
950
Ross Dawson
https://rossdawson.com/wp-content/uploads/2016/07/rdawson_1500x500_rgb-300x100.png
Ross Dawson
2021-03-23 11:04:30
2021-03-23 11:09:26
Innovation Strategy Cheat Sheet: a succinct guide to setting your innovation course