I recently gave the closing keynote at the Lectora User Conference 2015 in Nashville, Tennessee, which brought together users from around the world of the Lectora e-learning authoring platform.
My keynote on Embracing the Future looked at the broad trends shaping our world, and how they were shaping the world of education in particular. Peer learning is a fundamentally important trend today, describing how people learn increasingly from their peers rather than formal teachers. Indeed, the leading edge of any domain of study is driven by peers who share what they discover on the edges of their discipline.
One of the stories I told in my keynote was how a young Mexican man has been amply rewarded for his talent and his propensity to share, rather than formal education.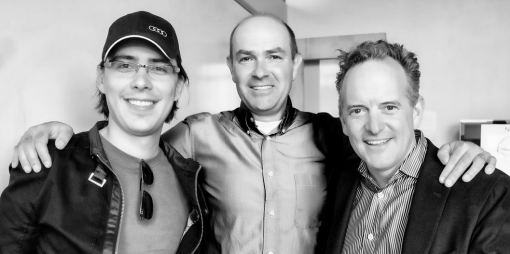 Image: Jordi Muñoz, Chris Anderson and Jon Callaghan of 3D Robotics Credit: Christopher Michel

The detailed story has been written up in Business Insider and other publications, but in short Wired magazine's Editor-in-Chief Chris Anderson set up an online community DIY Drones to explore his passion, attracting over 60,00 enthusiasts.
One of the first participants was Jordi Muñoz, a 21 year-old Mexican in Tijuana, who was passionate – and extremely knowledgeable – about drones, helping push out the boundaries of what was possible.
"He was just ahead of us all," Anderson recalls. "Nobody had grokked the whole picture the way he had."
Without knowing anything about Muñoz other than his expertise, Anderson sent him money to develop his designs, and before long asked him to be his co-founder of his company 3D Robotics before he had met him. Formal qualifications were irrelevant. What mattered was his knowledge, and making that visible by sharing with others.
3D Robotics has recently raised an additional $64 million for a total of $99 million in funding.
While formal qualifications will still be of value for some time, those who are looking for the most talented will always know where to look: the open spaces where the best in the world are learning and sharing with their peers.
https://rossdawson.com/wp-content/uploads/2016/07/rdawson_1500x500_rgb-300x100.png
0
0
Ross Dawson
https://rossdawson.com/wp-content/uploads/2016/07/rdawson_1500x500_rgb-300x100.png
Ross Dawson
2015-05-27 12:22:59
2015-05-27 12:22:59
In a world of peer learning the opportunities flow to talent and those who share