Last week I gave the opening keynote at IPZ2009 Interactive Marketing Summit in Istanbul. Here are my slides for my keynote on the Future of Interactive Marketing.
It was a fantastic event, the fourth annual IPZ conference organized by Günseli Özen Ocako?lu and Hakan Senbir of Marketing & Management Institute, which publishes a range of leading magazines including Marketing Türkiye.
In preparing for my keynote and during my visit I discovered many fascinating things I did not know about the Turkish online market. It is in fact one of the hottest and fastest-growing Internet markets in the world.
As it happens I have a very deep interest in language-defined online markets, such as Japanese, Chinese, French, Portuguese, Italian, and Korean. Each of these markets – some within national borders and others spanning countries – has very different characteristics across all facets including which types of social media are used, which are dominant players, and the most successful business models. I have written about this before in the context of blogging languages and global media strategies, and will be doing further analysis of country markets soon.
Here are five facts that illustrate how exciting the Turkish online market is.
1. Turkey is the third largest country in the world on Facebook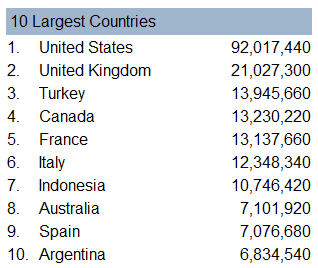 Source: CheckFacebook
Coming from almost nothing two years ago, Turkey now has close to 14 million Facebook users, overtaking France and Canada earlier this year to be the third largest country on Facebook after the US and UK. Facebook does not dominate social networking in other high population countries such as Brazil, Russia and Japan, so Turkey with a population of 72 million and a very rapid uptake of online services ranks close to the top of the list.
2. Friendfeed is more popular in Turkey than anywhere else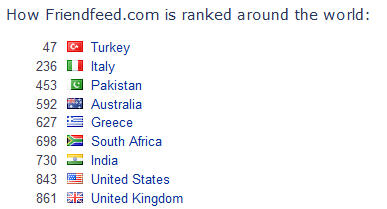 Source: Alexa
In relative terms Friendfeed is more highly ranked in Turkey than any other country. While in Turkey most people think of Friendfeed primarily as a niche geek platform, with Facebook the true mass market social network, in fact a large proportion of conversations, many stemming from Twitter and Facebook and then posted back onto those sites by users, are happening on Friendfeed. This seems to indicate the particularly conversational nature of Turks, aligning themselves with the social media advocates of Silicon Valley.
3. Turkish Internet users have the highest level of engagement in Europe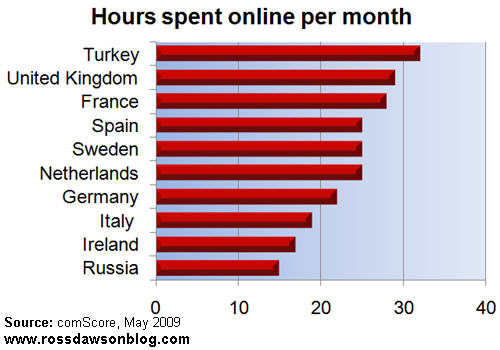 Source: comScore
Recent statistics show that Turkish internet users have the highest level of engagement of any country in Europe, both in hours spent online and number of pages viewed. This is in spite of fairly low broadband penetration, which is usually correlated with less time spent online.
4. Turkey has a population of 72 million with an average age of 28
Source: NationMaster
Turkey has the youngest population of any country in Europe, with its youthful orientation in contrast to the rapidly aging countries of Western Europe. This means that we can expect uptake of new technology to be far faster than in other countries, as we are currently experiencing. Turkey has come relatively late in building a mass internet market, but its pace of growth is exceptional and will continue to be so.
5. Broadband penetration is low but rapidly rising
Gas masks in a busy internet cafe during the May Day riots in Istanbul, Turkey
Source: Will Cowan on Flickr (Creative Commons)
At the end of 2008 total Internet penetration was estimated at 22% of the population, with just 35% of these on broadband. As the proportion on broadband rapidly rises, the already high levels of engagement will increase. Mobile penetration is close to 100%. Mobile broadband and 3G is being launched currently, so much of the next phase of Internet growth in Turkey is likely to happen on mobile devices.
Counterpoint: YouTube and many other websites are banned and blocked in Turkey
At last count 1874 websites were banned by the Turkish legislature, notably including YouTube and WordPress. However this doesn't stop people accessing those sites using proxy browsers. The Turkish prime minister himself was reported to say he gets around the YouTube ban, and it is in fact supposedly the ninth most popular site in the country. The reasons for the ban are complex and rooted in legal structures and the separation of powers. On the positive side, the Turkish market is thriving in spite of these blocks. However unless this changes it will impact among other things the willingness of entrepreneurs and venture capitalists to invest in the market.
In summary, the Turkish Internet market is one of the fastest growing and most dynamic in the world. Its large and young population overlaid with strong economic growth and internet technology rollouts means this will if anything accelerate. There are outstanding opportunities for Internet entrepreneurs and for traditional media to migrate online.
The extremely strong uptake of social media, notably Facebook, reflects on the traditional community-based culture of the country, as well as the dislocation of urbanization. I was surprised by the relatively poor English skills outside the professional sector, a factor which will in fact increase concentration and opportunities in the Turkish language market.
I look forward to engaging more in this very exciting country and market.
As an aside, I met Cem Sertoglu, at the time the CEO of corporate social networking platform Select Minds, in New York in 2005 at an event on Blogging goes Mainstream that Cem, Robert Scoble, myself and others spoke at. Cem has since returned to Turkey and is now general partner of iLab Ventures, Turkey's leading internet VC firm. It was great to catch up with Cem while I was in Istanbul. Cem writes some great commentary on the Turkish Internet market on his blog Sortipreneur. [UPDATE:] Cem makes an interesting comment re language skills and Facebook uptake .
https://rossdawson.com/wp-content/uploads/2016/07/rdawson_1500x500_rgb-300x100.png
0
0
Ross Dawson
https://rossdawson.com/wp-content/uploads/2016/07/rdawson_1500x500_rgb-300x100.png
Ross Dawson
2009-10-31 03:46:50
2009-10-31 03:46:50
Five reasons why Turkey is one of the hottest Internet markets in the world