For those who love rich data on the world of media and telecoms, the release of a report by UK telecommunications regulator Ofcom is always a cause for celebration.
Last year I covered some of Ofcom's report on key trends on communication and media usage. Here I will excerpt a few of the highlights from today's Ofcom International Communications Market Report 2011, which focuses on country comparative data. There is an absolute wealth of information in the report. The data below is a small selection that I found particularly noteworthy, with some brief comments.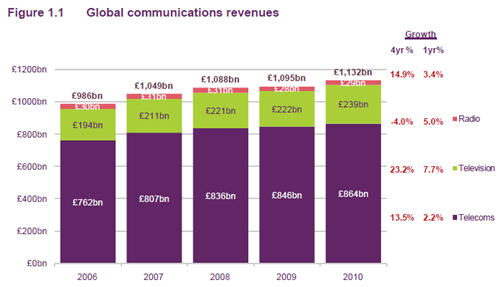 Global telecoms sector revenue has flattened considerably, with just 2.2% growth last year, brought down by performance in major markets. Interestingly television revenue continues to increase at a healthy pace beyond GDP growth.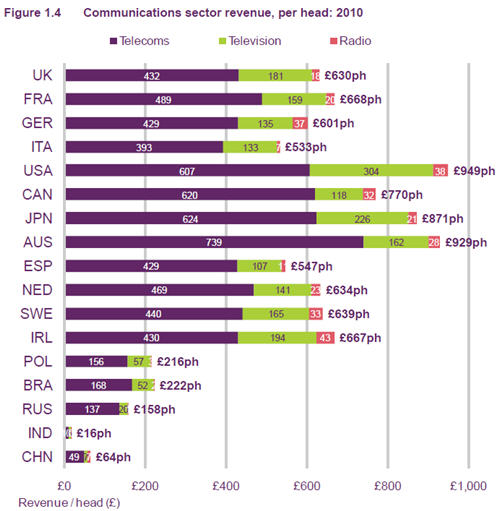 USA followed by Australia and Japan are the countries that generate the greatest revenue per capita, considerably higher than Western European countries.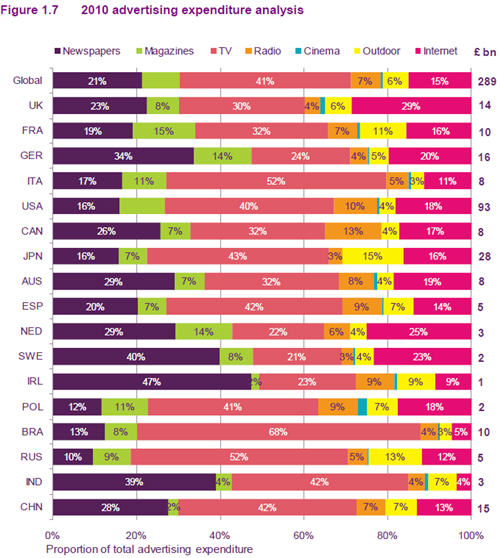 The countries with the highest proportion of newspaper advertising revenue are Ireland, Sweden, India, Germany, China. There are quite distinct dynamics at play in each country to make the newspaper industry (for now) so strong. UK followed by Northern Europe leads in the share of Internet advertising revenue, though China comes in at a very strong 13% (I question this figure) and Russia at 12%.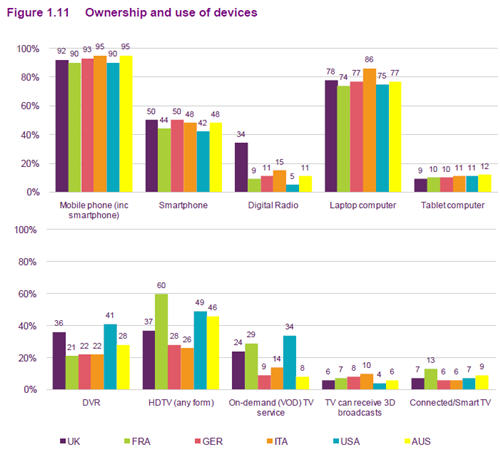 The consistency across countries is perhaps the most interesting feature, with USA and France leading in next generation television. Australia is just ahead on tablet usage.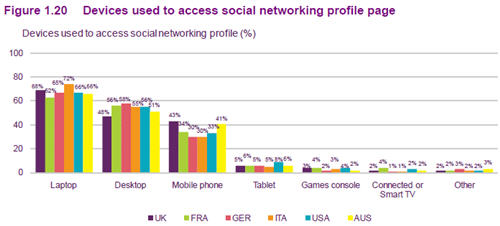 Mobile phones are most used for social networking in UK and Australia, in both cases at the expense of desktops.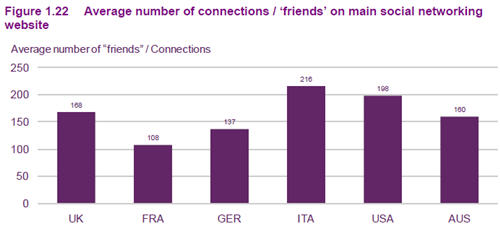 I haven't seen this data before – Italians apparently have more 'friends' while French have half as many.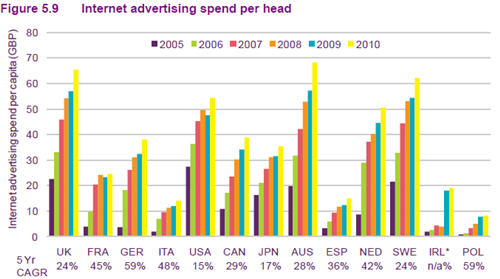 Australia, UK, Sweden, USA, and Netherlands significantly lead in Internet advertising per capita, substantially higher than other countries.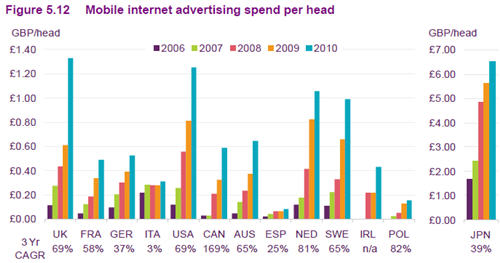 UK, USA, Sweden, and Netherlands are the front-runners here, with Australia a significant step behind. However overall levels are in the order of 2% of Internet advertising.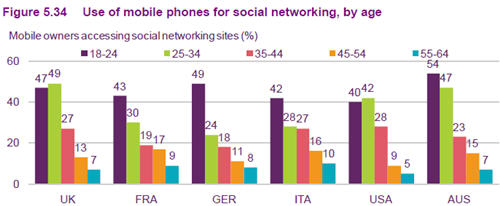 Overall UK and Australia lead in mobile use of social networking. German youths have strong uptake, not matched by their older compatriots.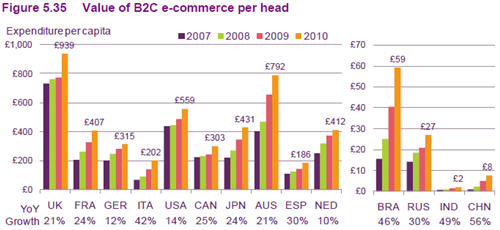 UK is the significant leader in consumer e-commerce, with Australia and then US trailing behind, with other countries considerably slower on the uptake.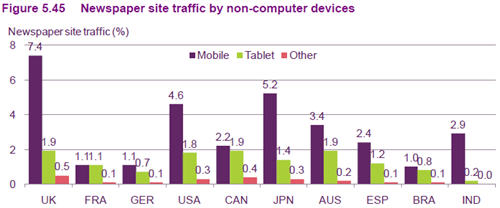 British lead in accessing newspaper sites on mobile, even ahead of Japan. India ranks a very strong fifth, showing how strong mobile data uptake is in the country. Tablet usage is high across North America, UK, and Australia, in some cases one third to a half of mobile usage and no doubt rapidly rising.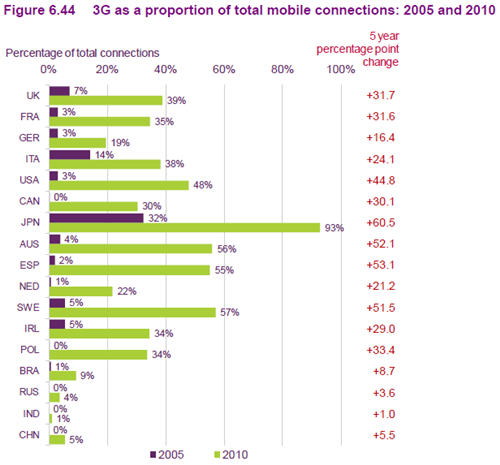 Japan of course is the leader in 3G uptake, covering almost all mobile phones. Sweden, Spain, and Australia rank next, off fairly low bases five years earlier. USA has had strong uptake lately to be catching up. Some European countries that were stronger five years ago have not grown their 3G base as fast as others.
Source of all images: Ofcom
https://rossdawson.com/wp-content/uploads/2016/07/rdawson_1500x500_rgb-300x100.png
0
0
Ross Dawson
https://rossdawson.com/wp-content/uploads/2016/07/rdawson_1500x500_rgb-300x100.png
Ross Dawson
2011-12-14 10:27:20
2011-12-14 10:27:20
Fantastic international comparative data on media, social media, and mobile