Other 2009 summary posts
Top blog posts of 2009: 6 on Twitter and the media
Top blog posts of 2009: Enterprise 2.0 and organizational effectiveness
Top blog posts of 2009: The future
Top keynote speech presentations/ videos of 2009
And one more summary of my blog posts that have attracted the most interest this year, this time on the topic of influence, which has become very central to my interests and research.
1. Launch of the Influence Landscape framework (Beta)
A visual framework to explain the role and mechanisms of influence today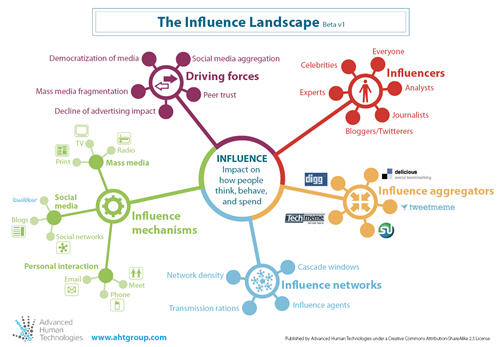 2. "Influence is the future of media"
Why influence is at the center of where the media industry is going
3. Sponsored Tweets opens up the world of monetizing influence
Ways in which the world of paid influence is coming to the fore
4. Influence research: Duncan Watts and the debate on whether "influentials" really matter
Watts research has been very influential but there are limitations to his approach
5. Influence research: what are the real influence networks within Twitter and social media?
What is the difference between followers and influence?
6. Five key trends in how influence is transforming society
Article that received a lot of attention in the lead-up to Future of Influence Summit
7. What are the business models for influence and reputation – today and in the future?
One of the most interesting topics – the strategic landscape and where the money is
8. Will Influencism supplant Capitalism? The emergence of the influence economy
Reflections on the influence economy in the wake of Future of Influence Summit
https://rossdawson.com/wp-content/uploads/2016/07/rdawson_1500x500_rgb-300x100.png
0
0
Ross Dawson
https://rossdawson.com/wp-content/uploads/2016/07/rdawson_1500x500_rgb-300x100.png
Ross Dawson
2009-12-30 13:26:19
2009-12-30 13:26:19
Top blog posts of 2009: 8 Perspectives on Influence