Recently I did the opening keynote to the top executive team of a major organization at their strategy offsite. It's not appropriate to share the full presentation, however I can share the rough scenarios I presented for the world to 2030. The scenarios were presented after having examined the driving forces and critical uncertainties for the company.
As always, a strong disclaimer comes with any generic set of scenarios like these – scenarios really must be created by the users themselves for specific decisions and in context (for the full disclaimer see my scenarios for the future of financial services).
SCENARIO FRAMEWORK FOR THE WORLD IN 2030
A traditional scenario process identifies two dimensions to uncertainty, that when combined produce a matrix of four scenarios. Once the framework is created, the full richness of trends and uncertainties uncovered in the research process are integrated into the scenarios. Here the two dimensions selected are:
RESOURCES AVAILABILITY: Resource Poverty TO Resource Affluence
Availability and real cost of key resources including energy, food, water, and environmental stability.
COHESION: Cohesion TO Fragmentation
Cohesion of society, government, nations, and institutions.
Together these dimensions yield:
FOUR SCENARIOS FOR THE WORLD IN 2030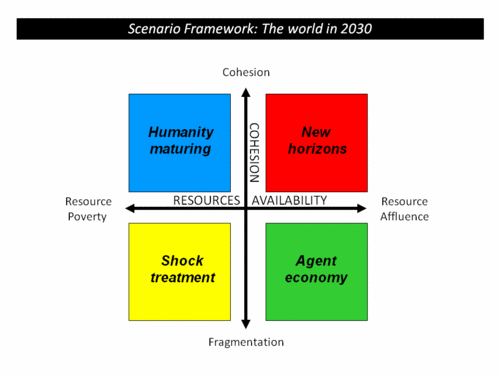 SCENARIO: SHOCK TREATMENT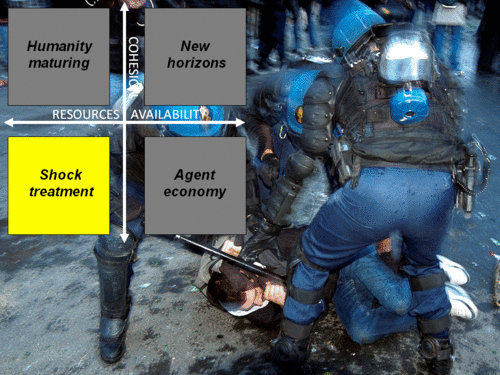 • Economic divergence: developed world stagnation
• Protectionism rises and markets localise
• Little global action on climate amid massive impact of global warming
• China and India fragment
• High-impact terrorism: bio, nuclear, radiation
• Infrastructure becomes primarily private
• Inexpensive and highly mobile labour
• Immigration tensions and rioting
• Urbanization accelerates, often in squalor
SCENARIO: NEW HORIZONS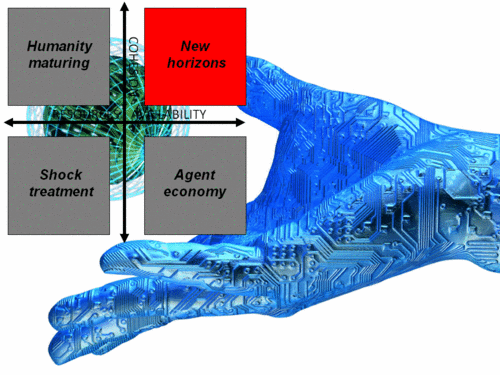 • Economic shift to East
• Billions become middle class
• New energy sources/ planetary engineering
• Innovation yields food and health to the poorest
• Artificial intelligence applied to real-world issues
• Robotics attenuates impact of aging workforce
• Life extension for the wealthy, retirement age rises
• Remote work leads to more distributed living
• Affluence drives tourism and travel
SCENARIO: HUMANITY MATURING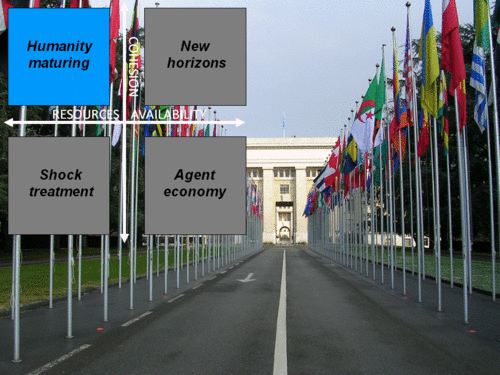 • Climate becomes extreme and volatile
• Food and water shortages, famine and pandemics
• Global coordinated action on climate
• Trade liberalisation accelerates, EU extends
• Corporate activity driven by triple bottom line
• Social entrepreneurs invest $100 billion and seed a billion enterprises
• Cities become compact and resource efficient
• Rise of public/ shared transport
SCENARIO: AGENT ECONOMY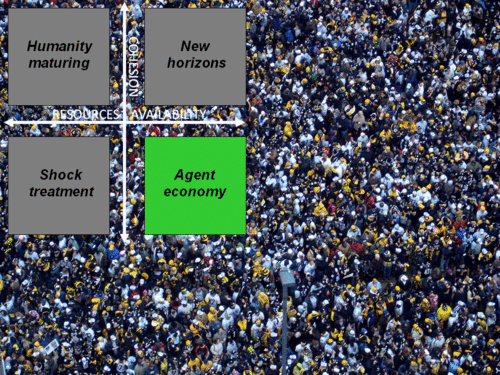 • Fluid global economy
• International outsourcing of most functions
• Mega-corporations become lean and micro-business rises
• Market solutions for environment
• Governments lose control and ability to tax
• Agents seek best price for everything/ customer loyalty is zero/ commoditisation of everything
• Distributed energy and manufacturing
• New capital markets, volatile financial markets
https://rossdawson.com/wp-content/uploads/2016/07/rdawson_1500x500_rgb-300x100.png
0
0
Ross Dawson
https://rossdawson.com/wp-content/uploads/2016/07/rdawson_1500x500_rgb-300x100.png
Ross Dawson
2014-03-05 00:26:03
2020-06-18 03:49:31
The World in 2030: Four scenarios for long-term planning and strategy