The world is abuzz with discussion of the imminent launch of an iPad-only "newspaper" called The Daily, which according to The Guardian boasts the involvement of Apple and Steve Jobs himself, with New York Times and Womens Wear Daily (not usually known for its media coverage but clearly getting some solid info here) providing further details such as a newsroom staff of around 100, pricing of 99 cents a week, and an "optimistic, populist" editorial stance.
These are the key issues I think need to be considered in this venture.
The supposed special relationship with Apple and Steve Jobs.
A number have described this as a 'Murdoch-Jobs' venture. I would be amazed if there is any substantive involvement from Steve Jobs, and surprised if Apple's support is substantial. Womens Wear Daily reports that Jobs has had several conversations with Murdoch about this. Big deal. Of course it would be a topic of conversation if they have met or spoken recently, and that doesn't mean there is any contribution from Jobs. It also says that Jobs may appear onstage with Murdoch to launch the app. That's certainly more than most app developers get, but it that doesn't mean Jobs is involved in the app itself. He is supporting something that can help sell more iPads.
Apple provided significant support to New York Times before the launch of the iPad. Its support to News Corp now is not likely to exceed that. Currently Apple makes exceptions for a handful of publishers, including Wall Street Journal, Financial Times, and Zinio, to allow them to sign up subscribers directly rather than through the iTunes store. This preferential treatment may extend to the new Murdoch venture.
Tom Foremski believes that the supposed alliance between Murdoch and Jobs is troubling. It would be if this was an alliance or joint venture of some kind. I very much doubt that it will be. Jobs may admire Murdoch, but he is not about to jeopardize the possibility of owning the most important publishing platform in the world by extreme favoritism.
The dynamics of the business model.
The investment figure reported for the first year by New York Times and Forbes is US$30 million. Murdoch has publicly said that he expects the iPad to hit 15 million in sales by the end of this year and more than 40 million by 2012, and The Guardian uses "a source" to suggest that Murdoch thinks that 5% of users is a reasonable target for subscriptions to the Daily. If the iTunes store is bypassed so News Corp gets all subscription revenue (which I believe is unlikely), this would amount to $69 million in calendar 2011 (assuming steady growth in iPad sales and consistent 5% subscription rate).
On the face of it, that adds up. The real question is whether that 5% subscription rate or anything like it is feasible. In contrast to The Guardian, the New York Times points to Murdoch hoping for 500,000 subscribers over the first 5 years, which would see an eventual revenue rate $25 million, resulting in a reasonably profitable venture given reducing ongoing costs and the addition of advertising revenue.
This is part of what I call the 'Grand Experiment' in charging for news – we don't know how people will respond, so media organizations can only try. There are a number of reasons to suggest that the subscription rates mentioned are unrealistic, though it still possible that it will get enough subscribers to make it a viable initiative.
Where value resides in online news.
In my recent NewsScape diagram, I pointed to 8 primary sources of value in news in a post-channel world: Timeliness, Novelty, Insight, Design, Reputation, Community, Filtering, and Relevance.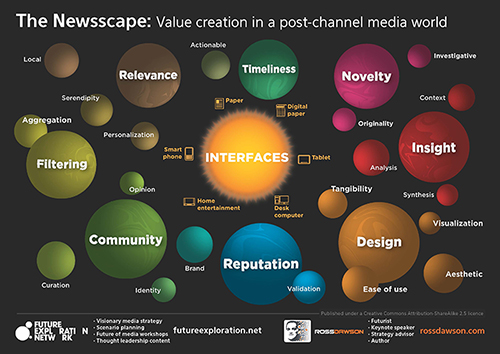 Click on the image to see large version
On the Timeliness and Novelty (newsworthiness) front The Daily will not do well – as its names suggests it is in fact primarily intended as a daily edition with some updates during the day. We hope that on Insight, Design, and Reputation it will perform well. However in the other domains, which are increasingly important, it is starting from behind.
Single-source news and editorial is going to gradually wane as aggregation moves to the fore. Aggregation – at least in the way people are looking for it today – is not in the ethos of News Corp. Relevance will not be addressed in that there appears to be no significant mechanism for personalization of news, other than perhaps selection of categories of interest.
As Scott Rosenberg points out, a closed iPad news app will not readily allow social sharing of content, and it is a fairly safe prediction that community beyond possibly allowing comments on stories is not going to be a central part of the reality of The Daily. The New York Times says there will be "no inbound links from others sides, and nothing outbound either."
The verdict.
The experiment to charge on a grand scale for news on the iPad must be undertaken, and none better to undertake it than Murdoch. I think the odds are stacked against the venture as it is currently described, because the approach looks like it will be primarily about taking newspapers as know them and putting them into a tablet format. I think the formats that will succeed are likely to be significantly – possibly even radically – different to what we have known in the past. With a mooted launch date in January 2011, 2e will know more soon.
I will be writing more on this topic soon. In the meantime I thought it was worth appending a couple of interviews I have done for ABC24 and SkyNews on newspaper paywalls, talking generally about the dynamics of charging for online content.
The State of Newspaper Content Paywalls
The Grand Experiment in Charging for Online News
https://rossdawson.com/wp-content/uploads/2016/07/rdawson_1500x500_rgb-300x100.png
0
0
Ross Dawson
https://rossdawson.com/wp-content/uploads/2016/07/rdawson_1500x500_rgb-300x100.png
Ross Dawson
2010-11-22 02:55:21
2010-11-22 02:55:21
The issues at the heart of the 'Murdoch-Jobs' iPad-only venture