In my keynote speeches over the last couple of years I have often talked about how there is an increasing divergence in business performance. This theme was particularly pertinent at the height of the global financial crisis, when it was important to make people understand that there were still some companies and sectors that were doing very well. However arguably this issue of divergence is even more important now that many companies and economies have a more buoyant outlook.
As I wrote last year about the Big Shift in economic structure, some great research from Deloitte's Center for the Edge supports my views on divergence, as illustrated below.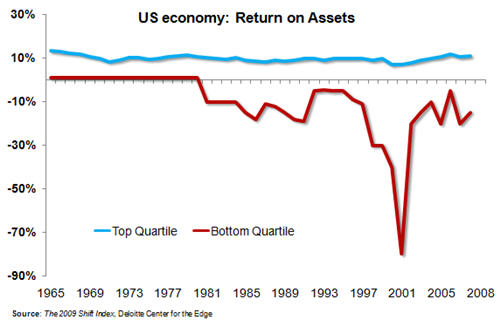 Data source: Deloitte Center for the Edge
This shows that Return on Assets for the top quartile performers has stayed consistent at 11-13%, and in fact recently has been close to its all-time highs. In contrast, more recently the bottom quartile is consistently destroying value, sometimes in a spectacular fashion. The only possible outcomes for these lesser-performing companies is that they get their act together, are acquired, or go out of business.
With the pace of change in the business environment increasing, companies need to consistently evolve their positioning and processes in order to keep ahead and in that top quartile of performance. Those organizations that continue to work as they have will inevitably slide into the lower performance bracket.
This increasing divergence in business performance is a defining issue for our times. Broader measures in the global economy will show solid economic growth in years to come. But this will hide a wide array of results, from spectacular performance by many companies, to dismal failure by many others. No organization is immune from the continual pressures to keep ahead.
https://rossdawson.com/wp-content/uploads/2016/07/rdawson_1500x500_rgb-300x100.png
0
0
Ross Dawson
https://rossdawson.com/wp-content/uploads/2016/07/rdawson_1500x500_rgb-300x100.png
Ross Dawson
2010-07-29 16:05:16
2010-07-29 16:05:16
The increasing divergence in business performance - if you're not ahead you're dead