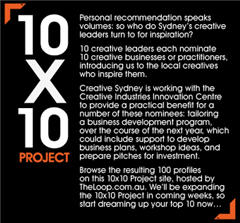 Creative Sydney is one of the best things going on in Sydney – this annual festival really does bring out and support the best of what's happening here. Particularly as the creative and technology spaces merge, I am very excited about what I see happening in Sydney, far more than at any other time in the 14 years I've been back here.
Creative Sydney has just launched its 10×10 Project. The website says:
Personal recommendation speaks volumes: so who do Sydney's creative leaders turn to for inspiration?

10 creative leaders each nominate 10 creative businesses or practitioners, introducing us to the local creatives who inspire them.
I am honored to be one of the 10 creative catalysts selected. Our task was to nominate who we think is doing fantastic work in Sydney. It's a very special group – you can see their profiles on the front page of the 10×10 Project website. There is also a brief review of the 10 creative leaders by Campaign Brief.
Liane Rossler – co-founder of Dinosaur Designs, Green Ups and the Pacific Islands Projects
Margaret Pomeranz – one of Australia's most respected Australian film critics
Ross Dawson – futurist and entrepreneur his blog Trends in the Living Networks is ranked as one of the top business blogs in the world
Sixty40 – Mark Simpson and Matt Taylor are founders of this award-winning animation powerhouse
Rob Hirst – musician, songwriter and founding member of Midnight Oil
Chris Bosse – architect, director of Laboratory for Visionary Architecture
Rhoda Roberts – producer and creative director of Sydney New Years Eve, and festival director, Garma Festival
Heidi Middleton and Sarah Jane-Clark (Sass&Bide) – founders of one of Australia's most successful fashion labels
Lee Lewis – actor and director on- and off- Broadway and theatre in Sydney
Rebecca Carrasco – creative behind some of Australia's most awarded ads, the world's top shows, and has been a regular award judge and industry speaker
On the left of the 10×10 site front page you can click through to the inspiring people or organizations named by these curators.
On the site you can see details about the 10 special creative leaders in Sydney I named . There are also brief descriptions of them below. Definitely go to the website to find out more about each one of them (if you don't know them already). Each one is doing fantastic things, and should be better known. This is all about remedying that!
There is certainly a web bias in my list, but now that the tech and creative spaces are merging, I presume that's part of why I was asked to make suggestions on who's awesome. Not everyone in the broader Sydney creative space knows about these people and ventures, though all of them have strong global profiles.
Michela Ledwidge – Artist / Entrepreneur / Technologist
Pollenizer – Pollenizing web businesses
Vasili Kaliman – Contemporary art dealer, event organizer, online publisher
Remember The Milk – World leading online to do list
David Holloway – Editor, The Metaverse Journal
Design Crowd – A leading global crowdsourcing marketplace for creative services
Nick Holmes a Court – Serial Online Entrepreneur, Founder of BuzzNumbers
Andrew Vande Moere – Senior Lecturer, Design Lab and author of information aesthetics blog
Luke Metcalfe – Developer and founder of leading web content aggregating company Rapid Intelligence
Gary Hayes – Director at Laboratory for Advanced Media Production
Hats off to Creative Sydney for this fantastic initiative. Now I want to find out the top 10 recommendations of each of these 100 nominees in turn! That would really uncover the depth and breadth of the great creative things happening in Sydney.
https://rossdawson.com/wp-content/uploads/2016/07/rdawson_1500x500_rgb-300x100.png
0
0
Ross Dawson
https://rossdawson.com/wp-content/uploads/2016/07/rdawson_1500x500_rgb-300x100.png
Ross Dawson
2010-06-04 06:47:28
2010-06-04 06:47:28
The Creative Sydney 10x10 Project - uncovering the best of Sydney talent