Back in the day, Technorati's annual State of the Blogosphere reports were the reference guide to what was happening in blogging, before Twitter existed or Facebook was open to the general public.
Illustrating the shifts in the landscape and in Technorati itself, it has just launched the 2013 Digital Influence Report, providing insights drawn from surveys including 6,000 influencers (a term that is unfortunately not defined in the report), 1,200 consumers and 150 brand marketers.
Influence has been a key focus for me for many years, with our activities including our Future of Influence Summit and Influence Landscape. Influence is by now a pretty mainstream frame for much digital marketing, yet in the big picture it is still early days, at least to judge by the Technorati report.
The full Technorati document is well worth a browse. Here are a few of the highlights from the report:
Social is still just 10% of total digital marketing budgets, with 83% of that amount on Facebook, YouTube and Twitter. Influencer marketing is 0.6% of the total spend.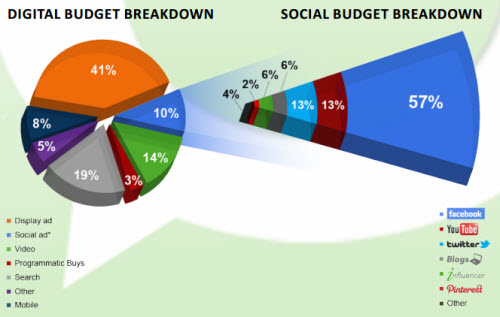 Source: Technorati Digital Influence Report

By far the biggest increasing segment across digital marketing is mobile, followed by social. Search and display advertising are falling as a proportion of spend.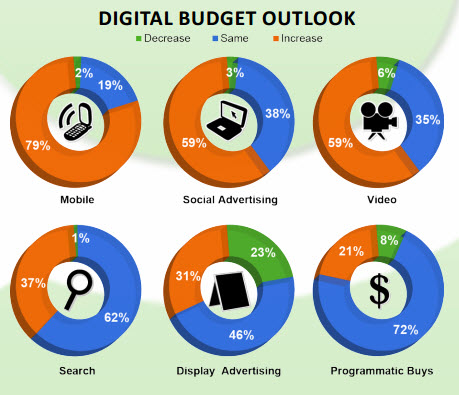 Source: Technorati Digital Influence Report
Brands are primarily relying on measures such as Facebook likes, Twitter follows, and pageviews. The social influence tools such as Klout and Kred, which despite their flaws are a lot more sophisticated than follower numbers, are still not prominent for marketers.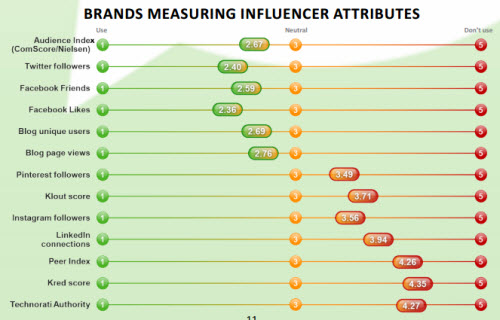 Source: Technorati Digital Influence Report
Facebook and Twitter dominate in platforms for influencers, though interestingly LinkedIn, YouTube and even Google+ stand out for revenue generation relative to content views.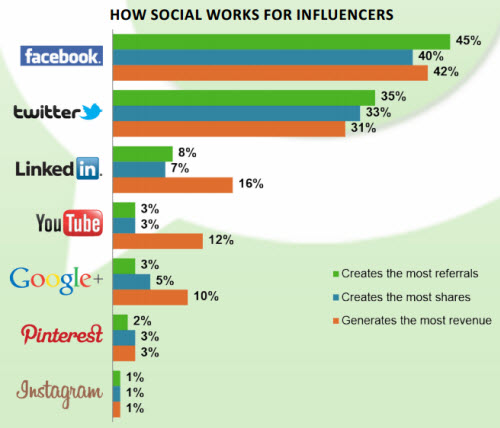 Source: Technorati Digital Influence Report
Influencers receive payments from brands primarily for sponsored posts on blogs or Facebook, with also some traditional publisher-style packages such as competitions.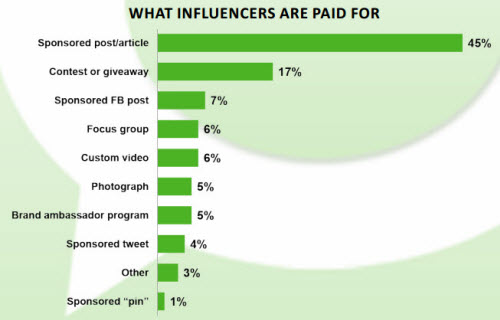 Influencers seem reluctant about most means of monetization, preferring classic publisher models such as e-commerce, affiliates, and banner advertising. They largely shun gated content and subscriptions, no doubt because only a handful of specialist bloggers could sustain this.



Source: Technorati Digital Influence Report
Marketers should already know that influencers love first review opportunities, just as mainstream journalists. Giveaways and prizes for their audience are valued, and not surprisingly the opportunity to be paid for content, though payments often remain on the low side.



Source: Technorati Digital Influence Report
https://rossdawson.com/wp-content/uploads/2016/07/rdawson_1500x500_rgb-300x100.png
0
0
Ross Dawson
https://rossdawson.com/wp-content/uploads/2016/07/rdawson_1500x500_rgb-300x100.png
Ross Dawson
2013-02-08 11:38:26
2013-02-08 11:38:26
The state of influence today: increasing marketing budgets and greater influencer professionalism