I believe that open business is an important and valuable foundation for success today. We actively share our activities and priorities on an ongoing basis, and intend to share considerably more over time.
Two years ago I shared our AHT Group Business Model Overview and a year later I published our 2012 Priorities, and found sharing these useful for ourselves and for others.
To help me and our team to strategize and act effectively in 2013 and beyond, I have created an overview that describes the activities, projects, and current priorities across AHT Group, which currently comprises Advanced Human Technologies, Future Exploration Network, and The Insight Exchange.
The document does not explain the relationship between the companies or the logic of our business models. I will extend this overview soon with an updated visualization of our business model.
Below is our group Strategic Overview as of January 2013, with a brief explanation of each of the major elements. We will provide more detail on the ventures, business models, and lessons learned during this year.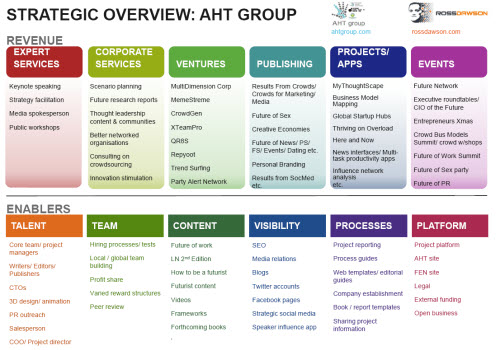 Click on image to see full size pdf
Description of the elements of the Strategic Overview:

REVENUE
Expert services: Services delivered primarily by Ross Dawson
Corporate services: Scalable services provided to corporate and government clients
Ventures: Planned new companies, each funded with a limited amount of internal capital with a view to later raising external capital if warranted.
Publishing: Publishing of print and digital books and reports and rich content websites
Projects/ Apps: Web and mobile apps that currently are not planned as stand-alone companies
Events: Conferences, executive roundtables, parties, and other events that complement our other activities
ENABLERS
Talent: Highest priority hires as covered on our We're Looking For Talent site
Team: Practices, structures, and processes that enable high team performance
Content: Content generated that is freely disseminated or published by other organizations
Visibility: How we build the findability and presence for our full scope of activities
Processes: Establishment and definition of processes that support our group's activities
Platform: Fundamental enablers that drive the business model
We'll be sharing more from our activities as we believe they will be useful to others.
https://rossdawson.com/wp-content/uploads/2016/07/rdawson_1500x500_rgb-300x100.png
0
0
Ross Dawson
https://rossdawson.com/wp-content/uploads/2016/07/rdawson_1500x500_rgb-300x100.png
Ross Dawson
2013-01-21 12:00:54
2013-01-21 12:00:54
Strategic overview of AHT Group: sharing our ventures, projects, and enablers