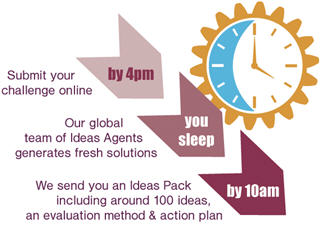 I was recently introduced to Yvonne Adele of IdeasCulture through a Twitter introduction from Tim Longhurst – a great connection to make!
Not long ago I wrote how Australia is becoming a global hub for crowdsourcing platforms: Freelancer.com, 99designs, DesignCrowd. Yvonne's service Ideas While You Sleep adds to the burgeoning collection of crowdsourcing services based in Australia. Yvonne described to me how the service works.
The concept is that challenges submitted by 4pm will receive an pack of 100 ideas with an action plan by 10am the next morning, currently at an introductory price of A$495.
Ideas While You Sleep draws on 440 brainstormers, who are ranked in experience from apprentices to premium. As they successfully contribute to projects, they are promoted to a higher roles.
Teams are always designed with diversity in mind, so they include the full range of levels of experience as well as background. Team members are rotated as new projects come up.
Following what Yvonne found worked best, contributors brainstorm individually on the project, and then share and build on each others' ideas after having considered the question on their own. The best 100 ideas are then selected and put in a matrix, together with a one page action plan summarizing the ideas.
Team members are paid $25 for 15 minutes work. Interestingly, Yvonne tested the 'conventional wisdom' that unpaid participants contribute more value than paid ones. Her results showed the opposite – the paid team members offer more.
Projects that have been done on Ideas While You Sleep include a franchiser wanted to know how to attract new franchisees, a tyre retailer that wanted a name, advertisement copy for a housing project in Istanbul, and port tasting notes for a wine company.
As far as I'm aware this is a unique crowdsourcing model, and by all accounts is working well in bringing diverse minds to bear on idea generation. Let me know if you're aware of similar models.
AND, if you are in Sydney and would like to hear more from Yvonne on her model and how best to tap the power of crowdsourcing, come along to The Insight Exchange's Getting Results from Crowdsourcing event on the evening of 31 May. Use RDBLOG as a discount code to register for $45.
https://rossdawson.com/wp-content/uploads/2016/07/rdawson_1500x500_rgb-300x100.png
0
0
Ross Dawson
https://rossdawson.com/wp-content/uploads/2016/07/rdawson_1500x500_rgb-300x100.png
Ross Dawson
2010-05-20 18:38:21
2020-06-18 04:19:08
One more reason why Australia is a global hub for crowdsourcing: Ideas While You Sleep