This morning I was interviewed on the Morning Show about next generation technologies including holograms on smartphones, machine to machine (M2M) communication, neuro-hacking and brain implants.
Click on the image to see a video of the segment.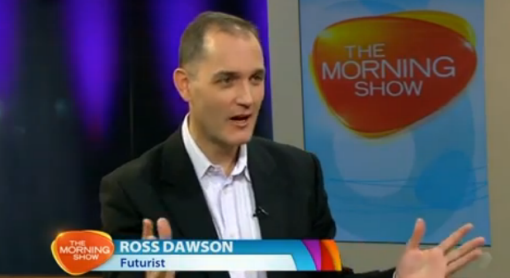 The possibility of holograms on smartphones is absolutely compelling.
Back from when the first smartphones came out I pointed to the interfaces as the critical enabler of rich computing on-the-go, as shown for example in my Future of the Media Lifecycle framework.

A defining aspect of a mobile phone is that it can fit in a pocket. This means it is highly limited in both displays and input devices on such a small device.
However once you move beyond the device itself for your interaction, using interfaces such as projectors, video glasses, voice, gesture, projected keyboards and so on, there are amazing possibilities in using even a pocketable device.
One of the most interesting domains is the potential for holographic or quasi-holographic displays, showing 3D representations that are not limited by a screen.
As such, the recent Wall Street Journal report that a well-funded stealth startup Ostendo has developed a holographic display that will fit in a smartphone is fascinating.
The company will initially launch a device that can project a 48-inch image from a smartphone, using the high-intensity high-resolution LED light sources they have developed. Somehow, Ostendo has managed to use 6 of its chips to display a rotating 3D image, captured by the Wall Street Journal in a brief video.
It is not at all clear how this works and there is no explanation from the company. Ostendo appears to be highly credible, having raised $90 million in funds, including from Facebook investor Peter Thiel and U.S. government departments such as DARPA, so it is a fair assumption that this is genuinely new technology in displaying 3D holograms, though the actual mechanism remains mystifying.
In writing about this story almost every media outlet has referred to the hologram of Princess Leia in Star Wars. Indeed, it seems as if there is potential for holographic communication from Ostendo's technologies. If it worked well that could be a massive leap beyond mobile video-conferencing, itself a long-foretold futuristic technology that has become commonplace.
As these kinds of extremely rich display technologies as well as input technologies come to market, we will have in our pockets access to almost anything we could desire in a universe of information.
https://rossdawson.com/wp-content/uploads/2016/07/rdawson_1500x500_rgb-300x100.png
0
0
Ross Dawson
https://rossdawson.com/wp-content/uploads/2016/07/rdawson_1500x500_rgb-300x100.png
Ross Dawson
2014-06-18 12:41:44
2014-06-18 12:41:44
How the next generation of display technologies will transform mobile computing