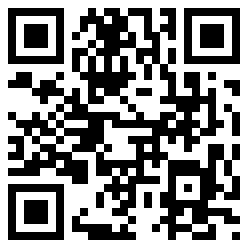 QR code for this blog
The Sydney Morning Herald has recently had big features in its Saturday edition on QR codes, the 2-dimensional bar codes that act as visual URLs for mobile phones, taking them automatically to the linked online content. QR codes are massive in Japan, appearing in magazines, billboards, business cards, shop windows, T-shirts, and more, by dint of NTT DoCoMo's promotion of the codes. One Japanese magazine consists entirely of free things you can download with QR codes. Now Australia's Telstra is trying to do the same thing in Australia, shipping all of its NextG phones with the necessary software, and making it freely available to anyone else.
It is very interesting to see a newspaper so actively promote a mobile technology. The Sydney Morning Herald is introduced daily QR codes on page 2 from this Monday, providing a link to the five most popular stories in the paper and other content. This means that you can engage with the media cycle even while reading a print newspaper. I wrote over two years ago about how each story on the online version of the Washington Post was showing links to blog posts about that article. Now this kind of immediate reflection of social media views is available in the print world.
So far in the US there have just been tests of QR codes in San Francisco, providing links to Citysearch reviews of local restaurants and merchants.
While there are a number of competing standards for codes that will link mobiles to online content, QR codes are substantially in the lead, and look set to become an international standard. There is a good chance these could become commonplace globally within the next 1-2 years. What is most interesting is the innovative ways they are used, particularly within mainstream media (which can include television).
https://rossdawson.com/wp-content/uploads/2016/07/rdawson_1500x500_rgb-300x100.png
0
0
Ross Dawson
https://rossdawson.com/wp-content/uploads/2016/07/rdawson_1500x500_rgb-300x100.png
Ross Dawson
2008-07-04 19:35:59
2008-07-04 19:35:59
Newspapers promote QR codes, linking print and outdoor media to online, and building tighter social-mainstream media symbiosis