I believe strongly in visual frameworks as a way of communicating and engaging with complex ideas. I share these on the web, sometimes use them as central frames for my keynotes, apply them in strategy workshops, use them to shape my own thinking on the topics they cover, and sometimes create private custom visual frameworks for clients to define and articulate their strategy.
I will be shortly launching a more complete review of all the public visual frameworks I've created. For now, here is a review of the public frameworks I've created this year.
I have used this in many keynotes and workshops this year to help individuals and small to mid-sized businesses to work out what they need to do succeed in a connected world, usually going into detail on the specific tools they can use in each area.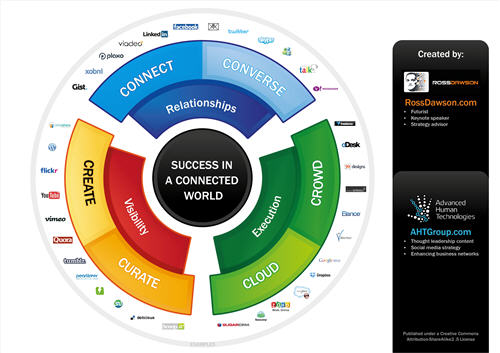 Click on the image for full size

I have applied this framework in a variety of situations, including as the foundation of my keynote at the Australian Institute of Company Directors conference in Beijing in May among other keynotes, and in numerous executive strategy sessions as a starting point for identifying implications and strategies of change. Also see the Prezi of the Transformation of Business, though note that I use different examples depending on the audience.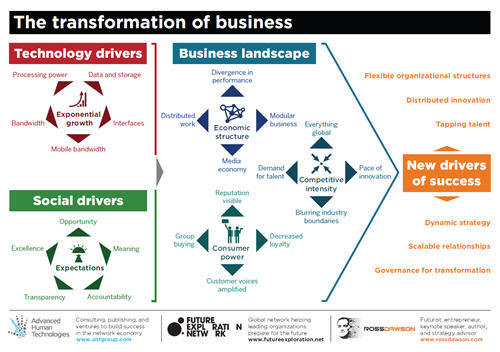 Click on the image for full-size pdf
I created the Transformation of Government framework as I am being increasingly drawn into the government sphere. While the fundamental structure and issues that affect business also impact government, some adaptation is required, as in the visual below. I first presented this as the opening keynote of the Institute of Public Administrators Australia conference. See the Prezi of the Transformation of Government here.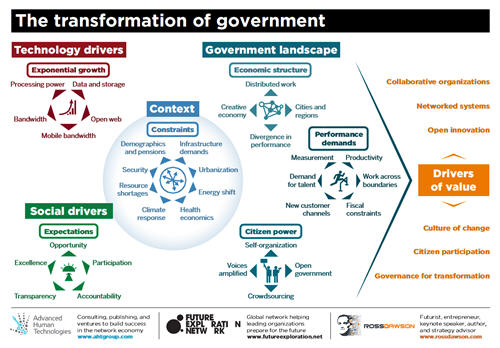 The Transformation of Government framework (click on image for full-size pdf)
Since the launch of our Crowdsourcing Landscape v1 I have intended to provide an update. I created a Crowdsourcing Landscape v2 to accompany our Getting Results From Crowds book, as below, moving from 14 categories to 22 categories, clustered into 8 business models.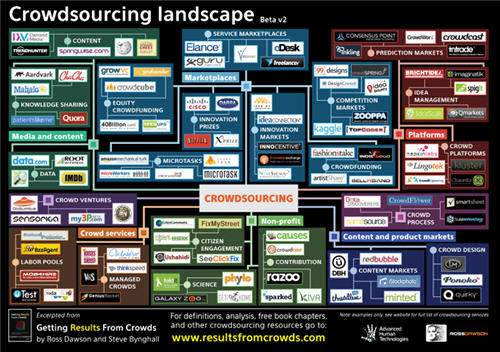 Click on the image to download full-size pdf
The Crowd Business Models framework shows the 8 major crowdsourcing business models, as described in more detail in Chapter 22 of Getting Results From Crowds.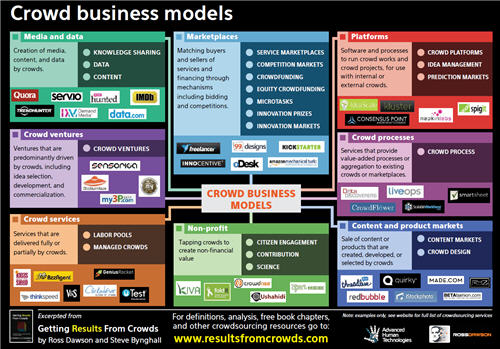 Click on the image to download the complete framework as pdf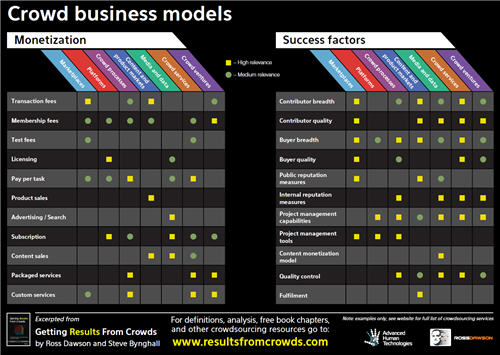 Click on the image to download the complete framework as pdf
https://rossdawson.com/wp-content/uploads/2016/07/rdawson_1500x500_rgb-300x100.png
0
0
Ross Dawson
https://rossdawson.com/wp-content/uploads/2016/07/rdawson_1500x500_rgb-300x100.png
Ross Dawson
2011-12-21 10:40:25
2011-12-21 10:40:25
New frameworks of 2011: Connected Success, Transformation of Business and Government, Crowdsourcing