MIT Sloan Management Review together with Deloitte have just launched 2012 Social Business Global Executive Study and Research Project, drawing out some very interesting insights from a survey of almost 3,500 executives from 115 countries.
Below the slides of the report I have selected several of the interesting slides with brief commentary.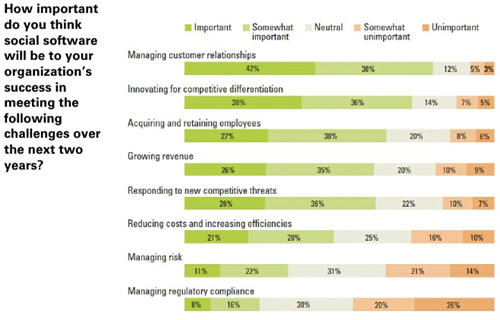 Comment: The importance of social software to business success is now well recognized, with 80% of executives seeing it as important to managing customer relationships, the most glaringly obvious use case. It is encouraging to see that 'Innovating for Competitive Differentation' comes up as the second most prominent application of social approaches, especially since that is seen as the second most important challenge for organizations over the next two years, after growing revenue. The role of social business in attracting and retaining talent is fortunately now well recognized.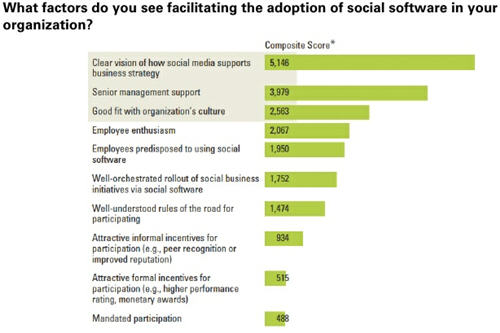 Comment: A clear vision of how social media creates value and supports strategy is seen as critical, no doubt because at this point very few organizations have formulated and communicated that vision well. Creating that vision is one of the biggest opportunity points for organizations, and one that I focus on in my work with executives around social business. The third to fifth most important factors are all essentially about existing organizational culture. Clearly, the issue is not just about the current culture, but what can and should be done to evolve corporate culture to one aligned with collaboration, communication, and other behaviors correlated with an effectively networked organization.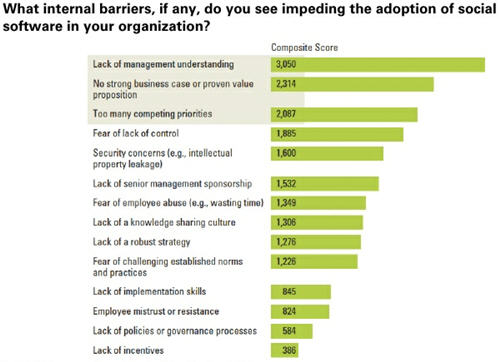 Comment: The stand out challenge is lack of management understanding, an issue that applies very differently across companies, and always a spectrum of engagement with the issues across management teams. This issue can and must be addressed by consistent exposure to the tools, issues, and applications. While individuals will have different attitudes and inclinations towards social media, everyone can gain understanding through experience. One important challenge is that the value from engagement with social approaches is long-term, so developing organizational capabilities can often be placed as a lower priority.
Overall the findings of the report are encouraging, showing a heightened degree of appreciation of the importance of social business to organizations. Increasingly, organizations success at engaging in this space will drive their performance and competitive positioning.
https://rossdawson.com/wp-content/uploads/2016/07/rdawson_1500x500_rgb-300x100.png
0
0
Ross Dawson
https://rossdawson.com/wp-content/uploads/2016/07/rdawson_1500x500_rgb-300x100.png
Ross Dawson
2012-06-01 08:09:31
2012-06-01 08:09:31
MIT global study on social business: Executives increasingly understand the value and success drivers