As the world of media moves beyond its traditional boundaries, media operators need to broaden their thinking about potential revenue sources. In a connected world, the possibilities transcend the classic advertising, sales and subscription models.
In my recent article Creating the Future of Media: 4 Driving Forces, 4 Strategic Issues, 4 Essential Capabilities in Media Titles magazine I wanted to point to some of the possibilities. I brought together some of what we had been working on with clients to create a Media Revenue Models framework to show some of what is possible.
Of course a key aspect of potential revenue streams is the value creation that merits payment. While the general categories of value added by media have not changed, their relative importance definitely has. To understand potential revenue models, you must also be clear on the distinctive value add of your media offering.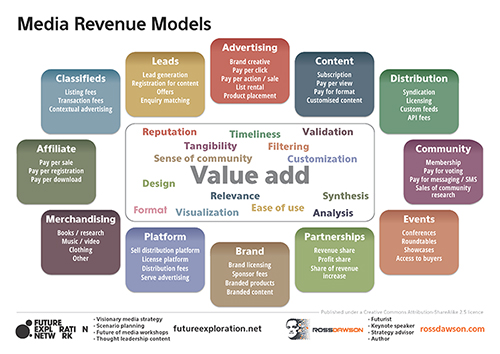 A few things to note. First, this is a draft, and while I haven't had time to update it yet I've already been given some additional ideas to complement this. I'd love to hear any other perspectives or ideas that would add to this. Second, this only looks at revenue, not at business models, which look at how resources are brought together to create value. We're in the process of developing a media business models framework. And third, the primary purpose of this is to help executives to think in new ways about their own business. I have already found it very valuable in strategy sessions with clients in generating new strategic options and ideas.
Here is the content in text form:
Value added
Reputation
Timeliness
Validation
Format
Visualization
Analysis
Ease of use
Design
Relevance
Synthesis
Tangibility
Filtering
Sense of community
Customization
Advertising
Brand creative
Pay per client
Pay per action/ sale
List rental
Product placement
Content
Subscription
Pay per view
Pay for format
Customized content
Distribution
Syndication
Licensing
Custom feeds
API feeds
Community
Membership
Pay for voting
Pay for messaging/ SMS
Sales of community research
Events
Conferences
Roundtables
Showcases
Access to buyers
Partnerships
Revenue share
Profit share
Share of revenue increase
Brand
Brand licensing
Sponsor fees
Branded products
Branded content
Platform
Sell distribution platform
License platform
Distribution fees
Serve advertising
Merchandising
Books/ research
Music/ video
Clothing
Other
Affiliate
Pay per sale
Pay per registration
Pay per download
Classifieds
Listing fees
Transaction fees
Contextual advertising
Leads
Lead generation
Registration for content
Offers
Enquiry matching
https://rossdawson.com/wp-content/uploads/2016/07/rdawson_1500x500_rgb-300x100.png
0
0
Ross Dawson
https://rossdawson.com/wp-content/uploads/2016/07/rdawson_1500x500_rgb-300x100.png
Ross Dawson
2010-03-01 14:20:55
2010-03-01 14:20:55
Media Revenue Models Framework: 12 categories of income sources for media companies