Last week I gave a keynote at the National Broadband Network – what's in it for me? conference in Bunbury, Western Australia, a town 2 hours south of Perth, the most geographically isolated city in the world. Not surprisingly the hunger for broadband in the region is enormous – you could feel it in the room.
My keynote on The Killer Apps of Connectivity roamed through through some of the killer apps of massive broadband, including work, health, education, media, and new business models. I also spoke about 'Everything', in which connectivity is applied to virtually everything around us.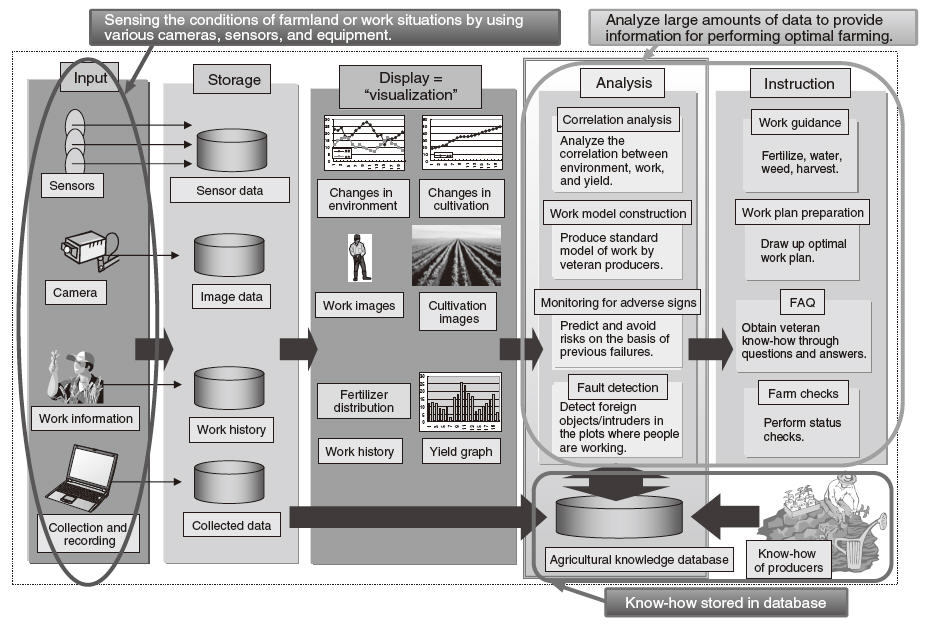 Image source: Application of Cloud Computing to Agriculture and Prospects in Other Fields
One of the domains that is very relevant to the South West region where the conference was held is agriculture. The image above shows the dynamics of a study sponsored by Fujitsu that used rich sensor data to improve practices and yields in rice farming in Japan, while rich sensor data has also been used in wine making, where grapes are highly sensitive to temperature and humidity differences and changes.

I also mentioned a number of other applications of sensors, including rich road and traffic data, smart grids for utilities, and minimizing building environmental impact.
However the power of the coming 'Internet of Things' will be created by ideas yet to come. Below is a partial list of the data that sensors can gather. The applications and value of gathering this rich data is really just limited by our imagination.
What can we do with pervasive information about any of this data? That is coming at an increasingly trivial cost, so let's start imagining what we can do with it.
Acceleration
Vibration
Water levels
Leaks
Sound/ Ultrasound
Light
Solar intensity
Chemical/Gas
Odour
Pollution
Motion/Velocity/Displacement
Electric
Magnetic
Position
Biological process
Proximity
Flow
Pressure
Force/Strain/Load/Torque
Temperature
Humidity/Moisture
Air pressure
Images
Video
https://rossdawson.com/wp-content/uploads/2016/07/rdawson_1500x500_rgb-300x100.png
0
0
Ross Dawson
https://rossdawson.com/wp-content/uploads/2016/07/rdawson_1500x500_rgb-300x100.png
Ross Dawson
2011-12-06 21:57:17
2011-12-06 21:57:17
Many sensors + Imagination = The Internet of Things