Download Chapter 4 of Living Networks on Emerging Technologies
Every chapter of Living Networks is being released on this blog as a free download, together with commentary and updated perspectives since its original publication in 2002.
For the full Table of Contents and free chapter downloads see the Living Networks website or the Book Launch/ Preface to the Anniversary Edition.
Living Networks – Chapter 4: Relationship Rules
Building Trust and Attention in the Tangled Web
OVERVIEW: Connectivity allows companies to integrate their systems more deeply and form many more business ties, but these opportunities are often neglected. In an increasingly transparent world, trust is becoming more rather than less important, and organizations must take steps to develop trusting relationships with their partners. The one scarce resource today is attention, so you must earn it from your clients and partners in order to create and maintain profitable relationships.
Chapter 4 of Living Networks – Commentary and updated perspectives
I opened the introduction to my first book Developing Knowledge-Based Client Relationships with the words: "Knowledge and relationships are where almost all value resides in today's economy." For the last decade I have explored the apparent paradox that in an increasingly digital world, human relationships, particularly trusted relationships, are becoming ever more important. At the same time, as the amount of information available swells, attention is becoming an increasingly valuable commodity. It is commonplace to talk of the attention economy, where value is based primarily on attention.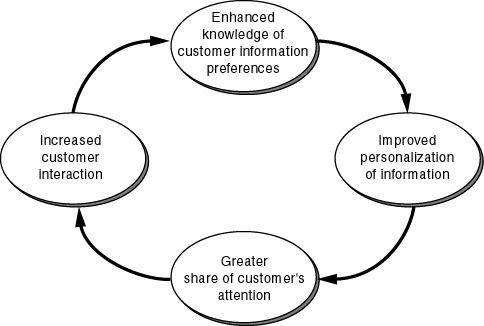 The feedback loop of customer attention and personalization
(See below for description)
Since trust and attention are so fundamental to where business is going, this chapter is absolutely as relevant today as when it was written. Arguably the underlying principles will become even more important in coming years.
The first part of the chapter focuses on organizational relationships and trust. In an increasingly collaborative and interconnected economy, the ability to engage constructively with other organizations is a fundamental enabler.
I pointed out three vital shifts in the role of trust:
* Trustworthiness is swiftly becoming more transparent.
* The pace of trust development is being outstripped by technology.
* It has become a key competitive factor to be fast and effective at developing trust with partners.
One of the implications of these shifts is that reputation systems will be fundamental to how business is done. Effective third-party measures of companies' trustworthiness will enable swift development of new value-creating relationships. In Chapter 4 I discussed collaborative rating systems, including the OpenRatings service, which provides ratings of suppliers' performance. The company was acquired by Dun & Bradstreet in 2006. My belief in the value of reputation systems is reflected in the fact that I am currently working on the early development of a company that will launch in this space later this year.
However companies can do much to accelerate trust development. In my next book on how to profit from the global talent economy I will build on what I wrote in this chapter. Rapidly building trusted relationships with suppliers will be a key source of competitive advantage. One of my five key recommendations in Chapter 4 was to 'create transparency'. It is absolutely a fundamental issue, though I have refined my thinking on this, notably on strategically defining where you do and don't provide transparency.
Aligning technology between partners has become far, far easier over the last five years. I used the example of how two companies had integrated their SAP systems. Today open interfaces or at least the ability to export files in standard formats have been implemented across most enterprise software applications. The extremely costly integration efforts of yesteryear are being replaced by far quicker and easier ways to align and integrate information systems between business partners.
In the diagram at the top of this article, I illustrate the feedback loop of customer personalization. This space has developed rapidly over the last five years, resulting in often highly personalized content, advertising, and services for consumers. One of the key variables up to now, and moving forward, is the degree to which people are comfortable with detailed personal information being gathered and used. I have always contended that if sufficient value can be created for individuals with the information gathered about them, it will be accepted. The problem is that too many organizations seem to want to gather information for its own sake, with little or no focus on value for their customers.
In the last section of Chapter 4 I wrote about high-value personalization initiatives, using the example of financial services such as institutional trading and private banking. Having worked within the industry for a decade, and then for many large financial institutions as a consultant, I've closely followed how online technologies are transforming client relationships in financial services. I wrote:
Every firm providing high-value services must… implement far higher levels of personalization.This is at the heart of their future competitiveness. XML is an immensely powerful tool to achieve this, because it can be used to break documents into their components, and then reconstruct them in whatever way is most relevant and useful to a particular client.
This has since been implemented in RIXML (Research Information Exchange Markup Language), an initiative that brings together major fund managers and investment banks to improve how financial research is provided to clients. WorldStreet, which I also wrote about, was soon after acquired by Thomson, now Thomson Reuters.
https://rossdawson.com/wp-content/uploads/2016/07/rdawson_1500x500_rgb-300x100.png
0
0
Ross Dawson
https://rossdawson.com/wp-content/uploads/2016/07/rdawson_1500x500_rgb-300x100.png
Ross Dawson
2008-05-12 01:09:42
2008-05-12 01:09:42
Living Networks - Chapter 4: Relationship Rules - Free Download and Commentary