[This post first appeared on the Getting Results From Crowds book website]
When Getting Results From Crowds was published in December last year the intention from the start was to regularly revise the book, both to keep apace with the rapidly changing world of crowdsourcing, and to continue to improve it.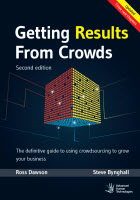 The Second Edition of Getting Results From Crowds will be launched next week at CrowdConf in San Francisco, where all attendees will receive a complimentary copy. In fact participants in the Crowd Business Models Summit that I'm running on October 22, the day before CrowdConf will be the first people to get the book.

The book is also provided in the registration fee for the Crowdsourcing for Marketing and Crowdsourcing for Media workshops that I'm running in New York later that week.
The print book can already be ordered on Amazon.com, and the pdf from the book website. The Kindle version will be available shortly.
Much of Getting Results From Crowds is focused on the fundamentals of how to use crowds effectively, which do not change over time. The most significant change in the crowdsourcing landscape this year was in equity crowdfunding, most notably with the signing into law of the US JOBS Act, so that chapter was substantially updated. A number of other changes in the environment were reflected in the new edition.
The biggest revision in the Second Edition is the addition of 3 new chapters, on Crowdsourcing for Enterprise and Growth businesses, Crowdsourcing for Marketing, and Crowdsourcing for Media.
We have been gathering input throughout on how best to improve the Second Edition. We will soon launch a platform to get broader perspectives on how we can continue to make the book better in subsequent editions, so I look forward to getting your thoughts!
https://rossdawson.com/wp-content/uploads/2016/07/rdawson_1500x500_rgb-300x100.png
0
0
Ross Dawson
https://rossdawson.com/wp-content/uploads/2016/07/rdawson_1500x500_rgb-300x100.png
Ross Dawson
2012-10-16 11:18:46
2012-10-16 11:18:46
Launch of Second Edition of Getting Results From Crowds at CrowdConf