In a rapidly changing world, it is a truism that every organization must be transforming itself for the future.
Yet that is deeply challenging, not least because every organization, especially any with external investors, is framed by governance, oversight structures to ensure value to stakeholders.
Governance is essential, yet governance must not block transformation or it will destroy the organization. Governance must be an enabler of transformation.

Over the last decade I have developed the idea 'governance for transformation' and worked extensively with boards on framing the future and making governance an enabler for ongoing transformation.
This morning I am in Bangkok giving the opening keynote at the Asia Pacific new partner conference of a major global professional services firm, and sharing for the first time my new Governance for Transformation Framework that pulls together some of these ideas.
Here is the framework (as always a Beta version so feel free to provide feedback to improve it), with a brief explanation below.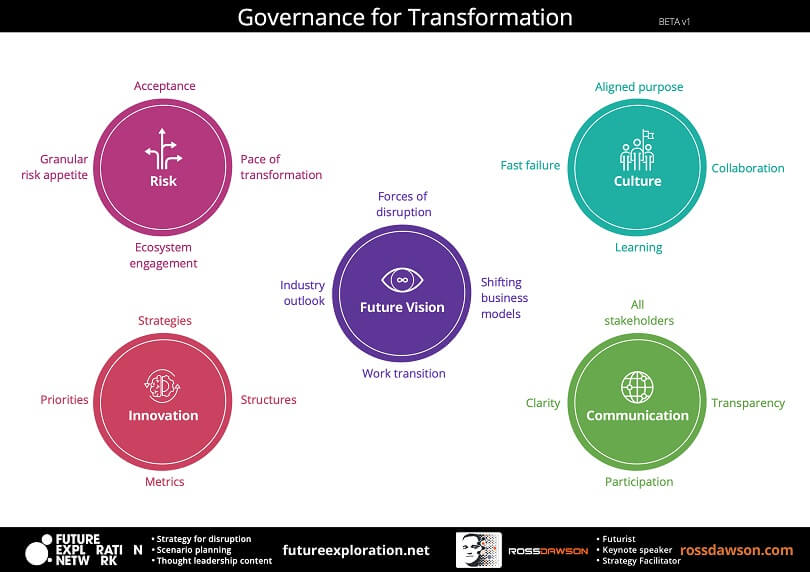 Click on image for full-size framework
Future Vision
Governance is fundamentally about ensuring the long-term sustainability of the organization.
This requires actively building a vision for the future of the organization, based on understanding the forces of disruption, having a clear outlook for the future of the company's industry, insight into how business models are evolving, and actively managing the transition of the workforce in a shifting role of work. These perspectives are essential for transformation initiatives to be value-creating and fit within a governance frame.
Risk
A core element of governance is managing risk, including the constant risk of being left behind in a rapidly changing environment. The biggest risk can indeed be an insufficient pace of transformation.
Executives, boards, and investors must start by accepting the reality of risk. Effective leadership today requires comfort with ambiguity and uncertainty. Governance needs to be based on a set of defined risk appetites that are granular, varying across established businesses, new ventures, and business model experiments.
All business is shifting to value creation across ecosystems and platforms, so external engagement is not a choice. However the risks of engaging across boundaries must be acknowledged and addressed in order to tap their potential.
Culture
Culture ultimately determines whether or not organizations successfully transform, especially as machine intelligence amplifies collective human talent and makes it an increasingly important differentiator.
At the center has to be tapping the full-hearted energy of staff around aligned purpose. Effective governance supports a culture of experimentation and acceptance of failure as a route to success. As talent moves even closer to the heart of organisational value, companies must support effective collaboration based on mutual trust, with ongoing learning built into all work.
Innovation
Innovation is in essence renewal, which is of course essential for every organization in a rapidly changing world. Effective governance requires clearly framing the role of innovation in the organization.
Innovation strategies shaped by the executive and approved by the board should include a clear prioritization of the kinds of innovation that are important, ranging from product innovation to business model innovation. The structures for innovation, including clarity on whether it is at the core of the organization or functionally separated, are a fundamental aspect of governance as they define the risks that enable renewal. Relevant metrics enable leaders to drive the innovation that matters and keep track of progress.
Communication
Well-framed communication about the transformation journey must include all stakeholders, including employees, customers, suppliers, investors, and the community in which the organization is set.
The planned path of transformation and what is required to succeed on that journey needs to be clearly articulated. Of course this has to be subject to change and evolution along the way. A well-defined path will enable adjustments and be based on transparency throughout, as appropriate for each kind of stakeholder.
Most importantly, there needs to be real participation by staff and other stakeholders in the process of framing and driving transformation. Everyone should feel an agent rather than a subject of change.
Image: Ricardo Gomez Angel
https://rossdawson.com/wp-content/uploads/2019/09/steel-eye-small.jpg
436
950
Ross Dawson
https://rossdawson.com/wp-content/uploads/2016/07/rdawson_1500x500_rgb-300x100.png
Ross Dawson
2019-09-10 00:48:28
2020-06-18 04:06:48
Launch of Governance for Transformation Framework