It has been several years now since I have been to India, where I last ran some executive workshops on high-value relationships for some of India's largest companies. I will be back in Mumbai next week to deliver the keynote address on The Future of Global Financial Services at the Vision 2020 Financial Services conference, run by Wipro and NDTV Profit, the Indian business news channel. The speaker line-up includes the top executives of many of India's major banks. I am the only international speaker.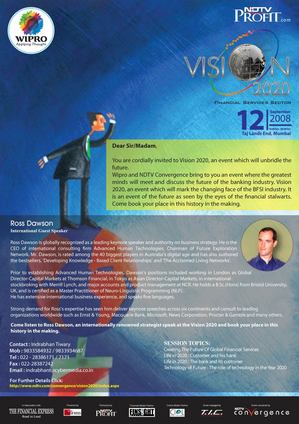 The event is highly focused on the future, creating a vision of what the financial services sector will look like in 2020, and in particular the relationship between banks and their customers in a world transformed by economic growth, social change, and technology.
The overview of my keynote on the future of global financial services is:
* Money = information: Why technology is the future of financial services
* Social trends: Changing attitudes and expectations
* Geo-politics: Scenarios for world economic power
* Industry landscape: Global bank consolidation and specialization
* Capital markets: The merging of global capital and micro-capital
* Digital money: e-cash, micropayments, and the future of money
* The role of India: How India can seize global opportunities
* Winning through technology: Using IT to succeed at home and globally
I am developing some scenario-based perspectives and insights into the global financial services sector in 2020 for my keynote. I'll give an overview of these on this blog after the event.
https://rossdawson.com/wp-content/uploads/2016/07/rdawson_1500x500_rgb-300x100.png
0
0
Ross Dawson
https://rossdawson.com/wp-content/uploads/2016/07/rdawson_1500x500_rgb-300x100.png
Ross Dawson
2008-08-31 15:28:59
2008-08-31 15:28:59
Keynote speech in India: The Future of Global Financial Services