The four books I have written so far – Developing Knowledge-Based Client Relationships, Living Networks, Implementing Enterprise 2.0, and Getting Results From Crowds – are linked by a number common themes. Most importantly they all focus on what what we should do now to create value given the evident trends shaping the future of business and society.
Most of these books had dedicated websites, however I have now consolidated all the resources on one book page on this site, giving access to free chapters, reviews, contents and other resources from each book. Please feel free to explore and download the resources.

Here are a few thoughts on each book in the context of the others, with links to the resources: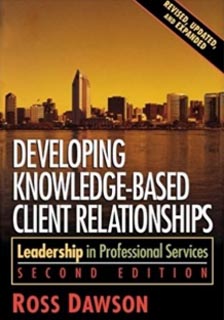 The subtitle to the first edition of this book was "The Future of Professional Services", laying out the thesis that the intersection of knowledge and relationships would be where almost all value would be created in professional services, and digging in detail into how to make this happen in practice.
This, my first book, in fact sold more than any of my other books, being the #1 seller in Australia on Amazon.com for over a month, and the top selling book from publisher Butterworth-Heinemann for a year. It continues to be used by professional firms in developing their client relationship programs.
Chapter 1 lays out the foundations of the concept of "knowledge-based relationships", while Chapter 6, new to the Second Edition of the book, provides a highly practical overview of how to implement key client programs in professional firms.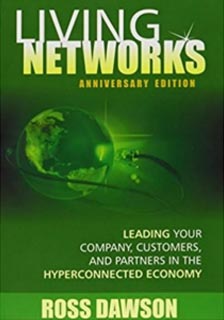 I am probably best known for my book Living Networks, which sold reasonably well but not spectacularly when it was released smack-bang in the middle of the dot-com bust, though supported by very nice testimonials from the likes of Seth Godin and Don Tapscott. However in the years after its publication it gained visibility as having effectively anticipated the rise of social networks and the networked economy before LinkedIn, Facebook or any of today's social networks existed, being a valuable platform for my blossoming work as a futurist.
Today, 16 years after its publication, the themes and content are all extremely relevant. Only the examples and case studies are out of date.
Every chapter of the book is available for free download, so you can form your own judgement on how well it has stood the test of time.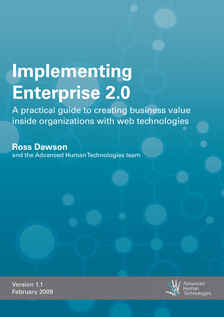 Implementing Enterprise 2.0 was in fact more of a report than a book, priced at US$195, but continued to focus on providing useful, actionable insights. A key reason I liked the phrase "Enterprise 2.0" at the time was that for me it represented not so much the application of Web 2.0 technologies in the enterprise, but more the next version of organizations as they shifted into social technology-enabled networks. While Living Networks delved substantially into how organizations would change in a networked world, Implementing Enterprise 2.0 took this to a substantially more detailed and practical level.
In the free chapters, on Web 2.0 in the Enterprise, Key Benefits and Risks, Governance and Social Networks in the Enterprise, you will see the pragmatic, structured approach I took to help leaders of enterprise transformation to take effective action.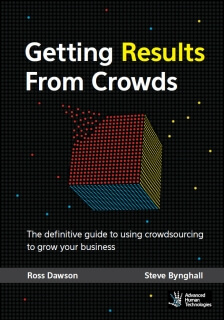 Getting Results From Crowds, which as Developing Knowledge-Based Client Relationships has now been published in a Second Edition, looked into the future of work and organizations, foreseeing a major shift to crowds and distributed work.
It was written to provide highly practical advice, often step-by-step, on how to create the most value with crowd work, very importantly for all participants. It included coverage of the rapidly developing field of crowdfunding, however the intent was to examine the full spectrum of opportunities from "tapping the power of many", as I defined crowdsourcing.
The free chapters, on When to use crowds, Specifying tasks, Using competition platforms, and Crowd business models, as in Implementing Enterprise 2.0, are designed to be as succinct and useful as possible to those looking to tap the potential of crowds.
What's next
To be frank I am disappointed to have written only four books over this extended period.
I am now in the final phases of defining my next book project, which I intend to sell and write soon, having made some more space from the too many ventures I have undertaken over the last decade.
Hopefully more news on my new book here before long!
https://rossdawson.com/wp-content/uploads/2018/07/GRFCslice.png
611
1450
Ross Dawson
https://rossdawson.com/wp-content/uploads/2016/07/rdawson_1500x500_rgb-300x100.png
Ross Dawson
2018-07-25 12:20:15
2018-07-25 12:33:29
Free chapters to four books on the future of relationships, networks, organizations and work