When people talk about the future, they usually point to all the new things that will come to pass. However the evolution of human society is as much about old things disappearing as new things appearing. This means it is particularly useful to consider everything in our lives that is likely to become extinct.
Below is the Extinction Timeline created jointly by What's Next and Future Exploration Network – click on the image for the detailed timeline as a pdf (1.2MB).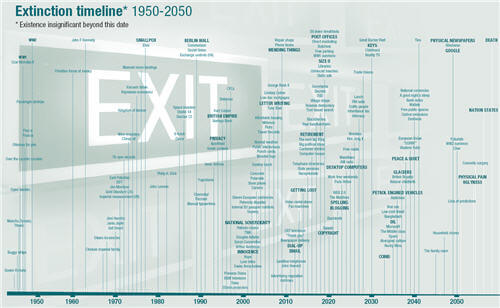 For those who want a quick summary of a few of the things that we anticipate will become extinct in coming years:
2009: Mending things
2014: Getting lost
2016: Retirement
2019: Libraries
2020: Copyright
2022: Blogging, Speleeng, The Maldives
2030: Keys
2033: Coins
2036: Petrol engined vehicles
2037: Glaciers
2038: Peace & Quiet
2049: Physical newspapers, Google
Beyond 2050: Uglyness, Nation States, Death
The Extinction Timeline project collaboration was sparked by Richard Watson's original idea, invigorated by a couple of wines over a Future Exploration Network celebratory lunch. It is also being released to accompany Richard's provocative new book Future Files: A History of the Next 50 Years, which has been getting a lot of attention, selling very well, and is already being translated into Chinese (good luck to the translator in grappling with far-out concepts!). Also see Richard Watson's blog post on the extinction timeline.
Those who have followed this blog will be familiar with other maps and timelines that Nowandnext.com and Future Exploration Network have created together, including our famous Trend Blend 2007+:
Trend map 2007+
and Nowandnext.com's Innovation Timeline 1900- 2050:
As always for our maps and timelines, the Extinction Timeline is released on a Creative Commons license, meaning you're free to modify and reuse the content as you see fit (with attribution) – I'm sure some of you will have better ideas on what will disappear in coming years! It's also interesting to muse about the implications of the extinction of so much that we've become very used to in our lives…
And of course, please don't take this too seriously :-).
https://rossdawson.com/wp-content/uploads/2016/07/rdawson_1500x500_rgb-300x100.png
0
0
Ross Dawson
https://rossdawson.com/wp-content/uploads/2016/07/rdawson_1500x500_rgb-300x100.png
Ross Dawson
2007-10-14 20:44:36
2018-03-14 10:19:05
Extinction Timeline: what will disappear from our lives before 2050