For me, the most interesting part of my new book Getting Results From Crowds is Chapter 22 on Crowd Business Models (which you can download here). I knew that after getting the book out a major direction for me would be delving deeper into the wonders of crowd business models. I'm now beginning to do some more exploring, together with lots of other people.
Next Monday I run a Crowd Business Models workshop in Sydney, the first in a global series of crowdsourcing workshops.
My Crowd Business Models framework below, like all my frameworks, is in perpetual beta. Part of the intention of the workshop series is that we will collectively evolve my crowdsourcing frameworks, including the one for crowd business models.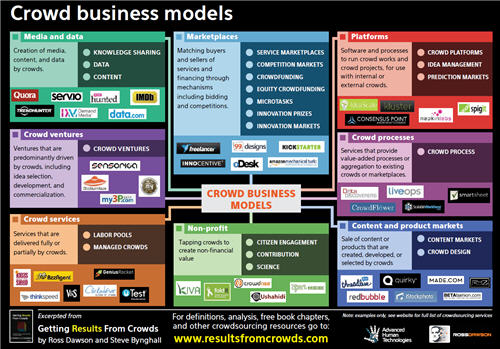 I am particularly excited about the Crowd Business Models workshop in Sydney on Monday because we have three absolutely awesome expert panellists to discuss crowd business models, what it means to them, what they have done, and what they have learned along they way about the succcessful implementation of crowd business models. Each has great experience in the area.
Rebekah Campbell, Founder of Posse, has taken a highly original model for selling concert tickets through crowds, to a business focused on local retailers and their communities.
Sebastien Eckersley-Maslin, Founder of BlueChilli, has many crowd-based businesses under the BlueChilli umbrella, including financial analysis market Vumero, opinion platform EyeCrowd and others.
Phil Morle, Co-Founder of Pollenizer, has as broad a range of experience across startups and business models as anyone in Sydney, including many ventures that draw on crowds.
I have no doubt that they, along with the audience at the event, will push forward the ideas of crowd business models. There will be a lot more development of the ideas around the world this year. I'll keep you posted what we come up with.
https://rossdawson.com/wp-content/uploads/2016/07/rdawson_1500x500_rgb-300x100.png
0
0
Ross Dawson
https://rossdawson.com/wp-content/uploads/2016/07/rdawson_1500x500_rgb-300x100.png
Ross Dawson
2012-04-12 09:52:27
2012-04-12 09:52:27
Exploring crowd business models