Last week the BBC reported that the Global internet slows after 'biggest attack in history', with a Distributed Denial of Service (DDoS) attack on spam-fighting organization Spamhaus said to be impacting the broader Internet. This was big news across global media until later in the day it became clear that the impact was minimal. Despite naysayers, the attack was in fact substantially the largest in history, and did result in slower Internet performance in the UK, Netherlands, and Germany.
At the height of coverage of the story I was invited into the ABC studios to explain live on the midday news what was happening. You can click on the image below to see the video clip.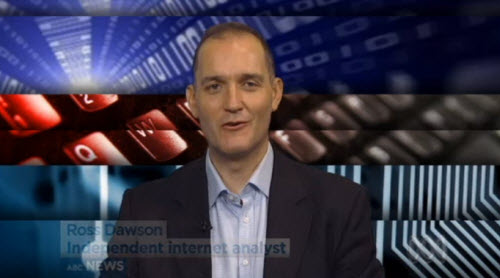 While I avoided technical language for my on-air interview, I alluded to the fact that there are a significant number of unsecured Domain Name System (DNS) servers, and the attackers had used a specific technique to attack these.
Even with the extraordinary size of the DDoS attack, there was relatively little impact. However the many administrators of DNS servers do need to ensure their systems are fully up-to-date. One of the challenges of the distributed nature of the Internet is that there can be many vulnerable components, which are not always well-maintained.
We can be happy that the attack had a relatively small impact. However we do need to address the potential weaknesses of distributed Internet infrastructure by ensuring all nodes are as secure as possible.
https://rossdawson.com/wp-content/uploads/2016/07/rdawson_1500x500_rgb-300x100.png
0
0
Ross Dawson
https://rossdawson.com/wp-content/uploads/2016/07/rdawson_1500x500_rgb-300x100.png
Ross Dawson
2013-04-03 12:02:33
2013-04-03 12:02:33
Distributed Internet infrastructure results in weaknesses as well as strengths