Other 2009 summary posts
Top blog posts of 2009: 6 on Twitter and the media
Top blog posts of 2009: Enterprise 2.0 and organizational effectiveness
Top blog posts of 2009: The future
Fourth in my series of summary blog posts from 2009 is selected presentations and videos from keynote speeches I've delivered this year (plus, at the end, my list of speaking topics for 2010).
My usual disclaimer: My presentation slides are highly visual and designed to accompany my speeches, and are NOT intended to be meaningful by themselves. The main reason I provide them on my blog is for the audience at my keynotes who want to look at the slides later. However it seems that others find the slides useful – in fact some have been viewed over 10,000 times on Slideshare.
I should also note that this list just includes a selection of the more interesting public keynotes I have given. I do not post slides for the presentations I frequently make for company in-house events such as divisional conferences and strategy off-sites.
Below are the links to the original blog posts which have the context and background for each presentation, with the embedded presentations below.
1. Video excerpts of keynote speech for Sun Microsystems Partner Executive Forum: The Future of the Network Economy
2. Profiting from Technology Trends: Keynote at National Growth Summit
3. Embracing the Future: keynote speaker at Direct Selling Assocation
4. Keynote presentation: Profiting from Accelerating Change – MegaTrends in Abu Dhabi
5. Keynote: Transforming Aged Care with Technology
6. Keynote: The Global Health Economy – Today and Beyond
7. Video of TEDx on Future of the Enterprise in San Francisco
8. The World in 2030: Four scenarios for long-term planning and strategy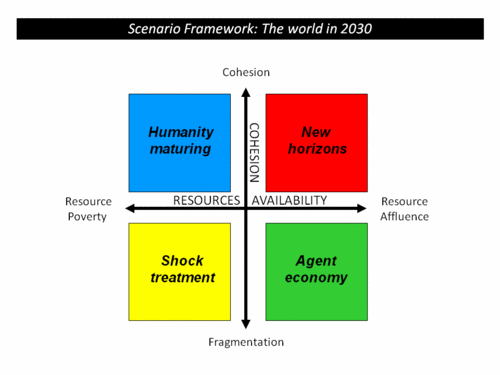 9. Overview of work as keynote speaker and strategy leader
Ross Dawson – Keynote Speaker and Strategy Leader
10. Keynote presentation on Future of Interactive Marketing at IPZ09 in Istanbul
11. Keynote: Network to win! ..for global professional services network Kreston
12. The Future of Sales is Social (the rise of social CRM)
13. New keynote speaking topics for 2010
GENERAL AUDIENCE
– Creating the Future of Business
– Leadership for Radical Times
– Profiting from Technology Trends
– Competing in the Global Economy
– Tapping Personal Networks to Drive Business Success
– Harnessing the Power of Innovation
– Building Exceptional Client Relationships
– Thriving on Information Overload
INDUSTRY-SPECIFIC TOPICS
– Creating the Future of Media
– The Future of Financial Services
– Leadership in Professional Services
– Influence is the Future of Marketing and PR
– 2020: The Future of Work and Organizations
– The Global Health Economy: Today and Tomorrow
– How Technology is Transforming Aged Care
https://rossdawson.com/wp-content/uploads/2016/07/rdawson_1500x500_rgb-300x100.png
0
0
Ross Dawson
https://rossdawson.com/wp-content/uploads/2016/07/rdawson_1500x500_rgb-300x100.png
Ross Dawson
2009-12-29 13:04:22
2009-12-29 13:04:22
Top keynote speech presentations/ videos of 2009