Download Chapter 7 of Living Networks on the Flow Economy
Every chapter of Living Networks is being released on this blog as a free download, together with commentary and updated perspectives since its original publication in 2002.
For the full Table of Contents and free chapter downloads see the Living Networks website or the Book Launch/ Preface to the Anniversary Edition.
Living Networks – Chapter 7: The Flow Economy
Opportunites and Risks in the New Convergence
OVERVIEW: Devices, communications, and industries are all converging into one vast space for doing business. This is the flow economy, in which almost all value is based on the flow of information and ideas. Companies must continually reposition themselves in this flow economy, both to meet new competitive challenges from unexpected quarters, and to take advantage of the massive emerging opportunities.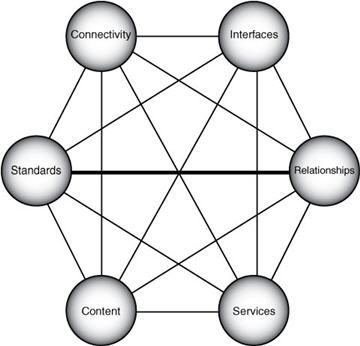 The Flow Economy Framework
Chapter 7 of Living Networks – Commentary and updated perspectives
This is the chapter from Living Networks that has become, if anything, more relevant since it was written. I describe what I call the "flow economy" based on the flow of information and ideas, and look at how understanding its six elements can be used in developing effective strategies. As the flow economy has taken over more and more of business activity, there has been a proliferation of opportunities to shift across the flow economy elements and industry boundaries.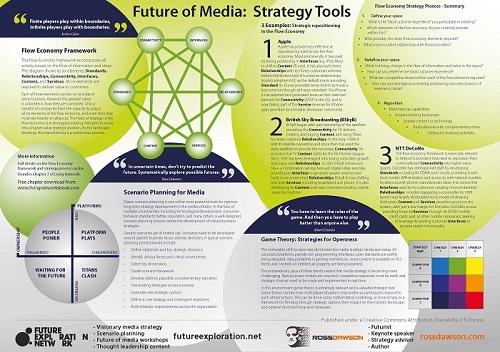 In the Future of Media: Strategy Tools framework above (click through for details) I give some current examples of how the flow economy framework can be applied to business strategy, including an update on the NTT DoCoMo case that I use to open the chapter. The full strategy process is described throughout chapter 7. I wrote:
Every company must consider itself as no longer belonging to any particular industry, but simply a participant in the flow economy.
What I described early in the chapter as the "convergence of convergence" is still running its course. Device convergence, communications convergence, and industry convergence are all coming together into the flow economy.
Lonely Planet, which I used to illustrate the flow economy strategy process, was bought by the BBC in October 2007, with the intent of furthering broadening the scope and reach of the valuable content and relationships it has developed from its roots in publishing travel guides.
The chapters finishes by describing "participative strategy," in which organizations get the broadest possible involvement in the strategy process. While attitudes to this from senior management have significantly shifted over the last five years, there is still a long way to go. There is just a small minority of organizations that are truly seeking broad participation in strategy creation. Arguably prediction markets are a mechanism to do that on a micro level. I expect that more tools and approaches will be implemented to allow input into the strategy process from across the firm.
https://rossdawson.com/wp-content/uploads/2016/07/rdawson_1500x500_rgb-300x100.png
0
0
Ross Dawson
https://rossdawson.com/wp-content/uploads/2016/07/rdawson_1500x500_rgb-300x100.png
Ross Dawson
2008-09-22 03:22:51
2008-09-22 03:22:51
Living Networks - Chapter 7: The Flow Economy - Opportunities and Risks in the New Convergence