We are big believers in the power of visual frameworks to help people understand complex landscapes and build effective strategies. One of the domains we have been applying these frameworks to is the future of media.
For those who haven't been following our work through the years, here is a collection of five frameworks we've created to help companies understand and act on the future of media. These are frequently used in strategy workshops, and also in more structured strategy development processes.
We have also created a number of custom future of media frameworks in the course of strategy consulting projects for clients, to address the particular issues they are facing, however unfortunately we cannot share these publicly.
Click on the title or images for links to the original posts, which contain full explanations as well as large versions of the frameworks.
Future of Media Strategic Framework
Released ahead of our Future of Media Summit 2006, this has been one of our most popular frameworks with over 500,000 downloads and extensive use by media organizations and governments in forming strategy. It is still as relevant today as when it was created over four years ago, and its perspectives such as the symbiosis of social media and mainstream media have certainly borne out.
Key Elements of Media Business Models
This framework used in our Future of Media Report 2007 did not prove to be quite as popular as the Future of Media Strategic Framework, probably as it is more complex and not quite as neat visually. However each of the four elements have proved to be very useful in helping companies to position existing and new channels and their associated revenue generation strategies.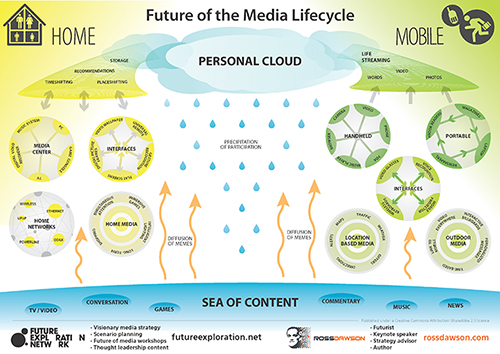 This framework uses the atmospheric water cycle as a metaphor to show how media and content have a lifecycle of their own. The focus, unfortunately unusual in media strategy, is on the spaces in which media is used, here in the home and mobile spaces. It examines the proliferation and convergence of devices and platforms in these spaces, the creation of 'Personal clouds' for our content, and the 'Precipitation of Participation' which feeds the Sea of Content again. Many executive teams at clients have gained fresh insights through examining their positioning in this landscape.
Future of Media: Strategy Tools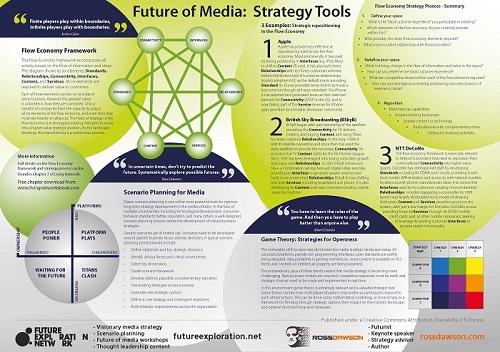 This framework shows some of the strategy tools and approaches that we find most useful in working with clients on media strategy projects. The Flow Economy framework that I proposed in my book Living Networks provides a valuable way of working out how to reposition relative to competitors and partners – here we provide a strategy process and examples. We also look briefly as scenario planning, which we use extensively in media strategy given the pace of change, and game theory, which is an essential tool for examining issues such as content paywalls.
Media Revenue Models Framework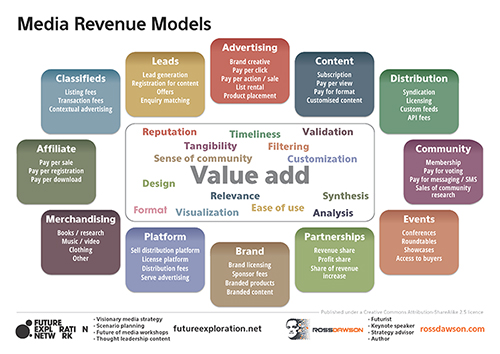 We believe that there are many new revenue opportunities for media proprietors. While these may not always make up for revenue losses in some legacy media channels, it is critical to focus on possible new revenue sources. This framework is intended to show that there are far more options than just advertising and subscription, and to provide a starting point for strategic discussions on where to look to new revenue.
This framework is still under development, so let us know what is missing here!
We are in the process of creating more future of media strategy frameworks – coming soon!
https://rossdawson.com/wp-content/uploads/2016/07/rdawson_1500x500_rgb-300x100.png
0
0
Ross Dawson
https://rossdawson.com/wp-content/uploads/2016/07/rdawson_1500x500_rgb-300x100.png
Ross Dawson
2010-07-12 16:05:40
2010-07-12 16:05:40
Five frameworks to build strategies for the future of media